We Simplify Pest Control in Van Buren, AR, and the Surrounding Areas
Integrated Pest Management
At Flex Pest Control in Van Buren, AR, we offer pest control solutions that take into consideration public health and the surrounding ecosystems. We guarantee responsible treatments that work.
Speedy Service
Enjoy easy scheduling and our commitment to punctuality. You never have to endure your pest problems for a day longer than necessary.
Pest Control
Enjoy Pest-Free Living With Our Residential and Commercial Pest Control in Van Buren, AR
At Flex Pest Control, we understand the frustration of your space with invaders that can put your health and safety at risk. Some of these pests cause serious destruction to property over time, which is why we help property owners in Van Buren, AR, eliminate all types of pests using custom solutions that work. Count on us to eradicate pests such as:
Ants

Wasps

Termites

Bed Bugs

Cockroaches

Spiders

Mosquitoes

Rodents

And more
Efficient Pest Control At Home the Flex Pest Control Way
Our pest control process is straightforward, beginning with our friendly, trained, and licensed service technicians inspecting your home. We know the habits of all common pests in Arkansas, so you can trust us to flush them out with pinpoint accuracy. For this process, we use fully customized program designs specifically for your pest problem.
Year-Round Pest Control Service for Peace of Mind
Pests are highly persistent and need the attention of a company that you can trust to match their persistence stride for stride. That's what we offer here at Flex Pest Control, and you can trust us to come to your aid at any time of the year. We'll also create a customized treatment calendar designed to stop the pests on your property from returning for your peace of mind.
About Flex Control
Jump To A Service:
ADDRESS
11928 Callis Rd.
Bentonville AR 72712
HOURS
M-S: 24/7
SUN: Closed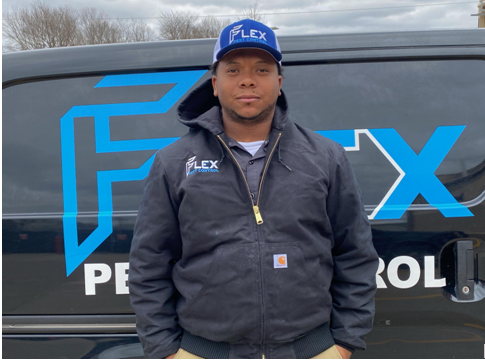 Pest Control
Eradicate Termites With Our Custom Termite Treatment in Van Buren, AR
Termites are one of the most destructive pests in Arkansas and across the nation, with estimates showing these insects and other wood-destroying pests as responsible for billions in losses for property owners. They destroy buildings and crops because they grow quickly, feed all day, and even lay up to 40,000 eggs in a single day for certain species! You must work quickly to eliminate them, so turn to Flex Pest Control for termite treatment that includes the following long-lasting solutions:
Same-day treatments:

 Every day you wait to schedule pest control in Van Buren, AR, means tens of thousands of termites are waiting to hatch.

Custom treatments that work:

 We provide a range of highly-effective treatments, including the Sentricon® System with Always Active™ technology.

Complete satisfaction:

 We use treatments that destroy the colony at the source. We also reduce the risk of it reviving a few months later with periodic maintenance treatments.
Highly Experienced Termite Technicians
As the premier termite control experts in Van Buren, AR, we have successfully eliminated countless termite colonies with the same high-level accuracy that continually sets us apart. Our cutting-edge termite treatment solutions don't just break up ongoing infestations; they prevent a new colony from reestablishing itself on your property. Termites fly long distances to set up camp, and continued treatment from our award-winning team ensure they'll never settle on your property to cause structural damage again.
Pest Control
Take Back Control Over Your Space With Our Rodent Control Service in Van Buren, AR
Rodents are one of the most frustrating pests to encounter as a property owner because some of them need as little as a quarter-inch to enter a space. Think about how many small openings you have around your property, and you can understand why it's so hard to keep rodents out. And when they come in, they can take over quickly because they breed extremely fast. 
At Flex Pest Control, we understand rodents inside out, so our service includes the following:
Identify the types of rodents you're dealing with

Ascertain the level of infestation

Identify entry points and block them

Remove rodents already inside your space
Call Flex Pest Control today at (479) 404-0800 for same-day relief from rodent activity!
Rodent-Free Living is Possible With Flex Pest Control
When you start to see signs of rodent activity, it's natural to worry that you'll never be free of them, especially when your best DIY efforts aren't yielding results. Flex Pest Control knows just how to solve the problem because the frustration of rodents running around your living spaces is no joke. Our holistic, safe, and proactive treatments effectively eliminate all common rodents we see here in Van Buren, AR, and we do the job right the first time!
Pest Control
Effective Bed Bug Treatment in Van Buren, AR
Eliminating bed bugs is highly stressful, as their breeding cycle makes them one of the most resilient pests. Throwing out the supposedly infested bedding won't eliminate them; the only way to break free from these parasites is a custom bed bug control program from experienced technicians. At Flex Pest Control, our highly trained and licensed pest control professionals know how to eliminate bed bugs at every stage of their lifecycle, so you can expect the following from our pest control in Van Buren, AR:
A thorough inspection

Eco-friendly treatment

Complete eradication of the bed bugs
Sleep Better at Night With Proven Bed Bug Treatment That Lasts
The Flex Pest Control technicians uncover bed bug infestations wherever they may be hiding. Where our technicians can't see the infestation, our highly effective extermination techniques will flush them out. And with a 100% satisfaction guarantee, we'll ensure your bed bug problems are just a thing of the past! 
Pest Control
Restore Your Yard's Aesthetic Appeal With Our Mole Control Service in Van Buren, AR
Moles are insectivores that burrow underground in their search for food, including earthworms, grubs, snails, ants, slugs, crickets, and more. Large specimens also deviate from their usual diet to feast on smaller rodents when the opportunity arises, but even so, mole activity makes landscapes an unsightly mess as they continuously dig their burrows. At Flex Pest Control, eliminating moles from landscapes is our specialty—call us now to restore your landscape's appeal.
Permanent Solution to Mole Damage
Moles don't just give your yard a patchy, uneven look. They can make mowing difficult, damage the roots of landscape vegetation, and ruin your best efforts at a nicely manicured lawn. Our team here at Flex Pest Control can put a stop to the damage and help you take back control over your property with services such as:
Thorough inspection and consultation

Custom solutions designed for your yard

Removal of moles at the source

Same-day service for fast relief
Pest Control
Stay Safe and Avoid Disease With Our Mosquito Control Service in Van Buren, AR
Mosquitoes pose a threat to health and safety because they carry a range of diseases, like the West Nile virus. Even when the species around your property do not qualify as disease carriers, they still bite and feed on blood to reproduce, causing welts on the skin and severe itching. Why not take advantage of our pest control in Van Buren, AR, to thin out the mosquito population around your property?
Complete Protection You Can Trust
With trillions of mosquitoes, and the females laying over 100 eggs in each breeding cycle, it can seem like a tall order to secure mosquito-free living. However, the key to keeping mosquitoes away from your space is to understand their life cycle and disrupt it. That's what we do here at Flex Pest Control, so when we arrive at your premises for mosquito control, you can expect the following:
Proper evaluation to find all possible mosquito breeding grounds.

Quality, long-lasting treatment designed to generate the best results for your space

Eradication of all possible sources of standing water to make it impossible for mosquito eggs to hatch

Treatment for shrubs and plants

Ongoing maintenance treatment to keep the mosquitos from returning

Hassle-free pest control plan
Pest Control
Schedule a Consultation Today
At Flex Pest Control, our range of pest control programs will protect your property from all kinds of pests. As our customer, you're getting the very best in pest control treatments with a highly experienced team that sets benchmarks for speed and efficacy. If you need pest removal solutions with premium-level customer services, we're the top choice in Arkansas.
Call Flex Pest Control today at (479) 404-0800 for premium pest control in Van Buren, AR, and the surrounding areas.
Love From Our Clients
Read Our Online Reviews