Get Comprehensive Pest Control Services in Fort Smith Starting at $45/Month
Completed Jobs in Just a Few Hours
When you want pests out of your abode, time is of the essence. It's why our business provides same-day appointments and takes care of your pest troubles in less than one day if you call before noon.
Exceptional Results from a Reliable Team
Common pests are no match for the proven-effective methods of Flex Pest Control in Fort Smith, AR! We stay current with the latest techniques and technology to provide you with a safe home.
Pest Control
Precise and Affordable Pest Control in Fort Smith, AR
Flex Pest Control works hard every day to find answers to the peskiest and most damage-causing pest problems. Pest can come in the forms of many species, shapes, and sizes, so having the right background on these creatures is vital to take them down. Every exterminator on our team is well-equipped and prepared to tackle a multitude of pest problems. Some common pests we can help you with are:
Wasps

Flies

Ants

Mice and rats

Bed bugs

Mosquitoes

Moles

Squirrels

Termites

Cockroaches
You can obtain a free quote for any type of pest control in Fort Smith, AR when you contact our staff. Give us a call at (479) 404-0800 for your estimate, or contact us to chat about your needs.
What Types of Pest Control Services Do We Offer?
A good pest control business takes the time to thoroughly understand all types of pests, as you never know what you'll face each day. Our offerings range from termite control, mosquito control, mole elimination, and bed bug removal, and of course general pest like ants, spiders, houseflies, mice, and much more.
Our pest control treatments vary depending on the specific nuisance we're trying to eliminate. However, whenever we use chemicals, we verify that they are eco-friendly and safe around humans. While they are effective at keeping pests out, they won't cause other problems. We do not use the same blanket treatment plans as other pest control companies do. When you work with us, your pest plan will be unique to your situation and property.
About Flex Control
Jump To A Service:
ADDRESS
11928 Callis Rd.
Bentonville AR 72712
HOURS
M-S: 24/7
SUN: Closed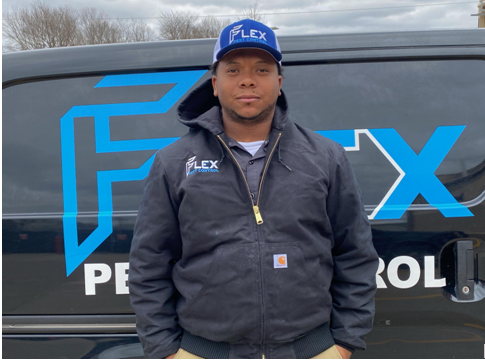 Pest Control
Top-Rated Termite Control in Fort Smith, AR
Termites are why many Americans are spending billions of dollars a year to repair their homes and businesses. It's one of the worst situations we encounter for pest control in Fort Smith, AR, so we offer control services to keep property owners safe from what they can do. During the warmer months of spring and summer, we tend to see a greater presence of termites and act quickly to eliminate them.
Wreaking havoc on wood furniture and structures, you must take care of termites as quickly as you can before the damage is done. Our top-notch technology identifies their hiding spots and eliminates all of these pesky creatures. Our business has seen how much destruction termites can leave behind in such a short time, so we make it our mission to remove them carefully and effectively.
Pest Control
Efficient Mosquito Control in Fort Smith, AR
Mosquitoes can take away from your time spent outside and lead to itching and bites. Break up with mosquitoes the right way by informing our trusted team about your problem. Stop your disease and virus-harboring foes with us because we can offer both same-day and long-term, recurring treatment applications throughout the busiest time of the mosquito season. Instead of taking your own measures with no guarantees, you should contact our award-winning company as we will do the following:
Remove standing water that attracts mosquitoes.

Return to reapply treatments during peak season.

Identify their resting areas and breeding spots on your property.

Verify your home is safe and mosquito-free.
Spend time outside with our mosquito control methods!
Pest Control
Banishing Bed Bug Treatment Near Fort Smith, AR
Bed bugs suck blood from humans and transform a once-peaceful and relaxing space into an itchy, gross nightmare. It doesn't take long at all for a few bed bugs to multiply and become a hassle for everyone in your home. Here's some of what to expect from our bed bug methods for pest control in Fort Smith, AR:
Heat remediation for thorough bed bug extermination

Pet and child-safe treatments that remove all bed bugs

Detailed home inspections in every room for precise results

Our company's satisfaction guarantee

Preventative measures to stop further bed bug growth
Detailed Bed Bug Inspections and Treatment Methods
If you have a bed bug infestation in your house, it's no easy feat to get rid of the entire clan without professional support. The last thing you want is to create ideal conditions for these invaders to multiply and to have them continue to bother your family. We inspect your property and have multiple treatment options that might involve fumigation, liquid and powder solutions, steam, and more. We also may advise you to take steps beforehand for the best results.
Pest Control
Responsive Rodent Control in Fort Smith, AR
Dealing with rodents is an extremely stressful scenario for any homeowner, as these creatures can leave droppings throughout the residence and create an unclean and unsettling environment. Since mice and rats can get into a building with a quarter to a-half-inch opening, the entryway possibilities for rodents are seemingly endless, but Flex Pest Control has the expertise to identify and close off every entryway for rodents. No matter what breed of mice is becoming a tenant in your home, our service team is the perfect group to permanently remove them.
How to Know If Rodents Have Infested Your Home
Unlike with other types of pest invasions, it's often clear when rodents get inside your home. Usually, where there's one, many others will follow with a larger infestation, spreading disease, creating dirty conditions, and getting into the food in your pantry or cabinets to sustain themselves.
Some signs you have rodents taking over your property are:
Small rodent nests from paper, cloth, or soft materials

Mice and rat droppings on floors, cabinets, counters, and more

Chewed wires, bags of food, or within the home's structure

Quiet sounds of scurrying or scampering in the attic, basement, or walls
If you have any suspicions that rodents are inside your space, don't delay in giving Flex Pest Control a call at (479) 404-0800. We're always available to help a homeowner in need of fast and effective pest control solutions.
Pest Control
Long-Term Solutions for Mole Control Around Fort Smith, AR
An untrained homeowner doesn't always know where to look for moles on their property, but the process becomes much easier with the help of Flex Pest Control. We've learned about their common burrowing patterns and feeding habits, providing you with the advantage you need to get rid of these mammalian menaces. Keep your precious yard looking pristine and prize-worthy by removing moles with our professional solutions.
Fast Mole Removal and Elimination Methods from Our Professional Technicians
The tunnels that moles dig can create pathways for other small critters and pests to use for shelter, food storage, and traveling underground. They can get into your yard and do serious damage, creating unsightly holes, dirt piles, dug-up grass areas, and more. Once-beautiful flower beds and gardens turn into a mole's destructive mess. Mole control is essential for property owners in and around Fort Smith, AR, and our methods are more effective than working on the problem alone.
Our baiting methods draw moles out and prevent them from returning, eliminating their tunnel travel routes and cutting them off completely. While they're looking for grubs and earthworms to eat, our staff will take them out quickly and efficiently. We never make mistakes dealing with mole mischief and have researched and studied their behaviors over the years to offer state-of-the-art mole elimination solutions.
Pest Control
Arkansas's Top Company Choice for Pest Control in Fort Smith, AR
As Fort Smith's preferred locally-owned and -operated business for pest control services, our staff will craft a personalized pest control plan to meet your property's needs. We've received numerous awards for both our work and commitment to top-quality customer service, crafting meaningful relationships with members of the community. We're not just your favorite pest control professionals – we're also your friendly neighbors, so don't hesitate to reach out if rats, moles, bed bugs, or termites are causing you trouble.
Everyone deserves to feel safe in their pest-free home in and around Sebastian County, and it's the mission of Flex Pest Control to help our clients achieve that peace. Call (479) 404-0800 to get your free quote from our trusted team or to schedule an immediate service appointment for pest control in Fort Smith, AR.
Love From Our Clients
Read Our Online Reviews