Top-Rated, Effective Pest Control in Fayetteville, AR, From $45/Month
Get Peace of Mind With Efficient, Same-Day Services
When unwanted invaders threaten your home's comfort and interior structures, getting immediate services can save you money and frustration. That's why we offer same-day services for pest control in Fayetteville, AR.
Advanced Techniques That Protect Your Family and Home
You might worry that pest control strategies like spraying chemicals indoors and outside could threaten your property, pets, or family. Our top-rated pest management specialists only use safe, environmentally friendly tools and techniques.
Pest Control
Excellent Residential and Commercial Pest Control in Fayetteville, AR
Whether your home or business is experiencing a problem with unwanted invaders, the Flex Pest Control professionals are your local experts for the job. We understand how different types of pests impact properties. That's why we provide efficient, same-day services to promptly deal with your pest problems. Furthermore, we create a custom pest control plan to address your needs. Don't let common pests ruin the comfort and safety of your residential or commercial property. Call our experts at (479) 404-0800 to request a free quote or schedule top-rated pest control in Fayetteville, AR.
Efficient Residential Pest Control Services in Fayetteville, AR
Common pests can make your home a far more unpleasant place. More importantly, pest problems can cause damage to your home's structures. Invaders like spiders, termites, and rodents are not roommates you'll want to have around for the long term. If you call us before noon, we can arrive at your property the same day to eliminate pests. Our professionals can perform pest control treatments to eliminate the following:
Cockroaches

Spiders

Silverfish

Ants

Termites

Bed bugs

Rodents

Mosquitoes

Moles

Wasps

And more!
Expert Pest Control Specialists Utilizing the Best Tools and Treatments Available
The prospect of spraying chemicals inside or outside your property to eliminate pests can seem daunting. What if these substances cause accidental harm to your family or pets? When you call Flex Pest Control, you can take comfort in knowing we only use environmentally friendly treatments for pest control that are safe for your family and pets. Many of our products are organic to minimize impacts on those with allergies and chemical sensitivities. Furthermore, our professionals undergo extensive training, licensing, and certification to ensure they always provide the best service for your home.
Long-Term Exterminations and Preventative Techniques
Hiring pest management services is useless if pesky intruders return to your property immediately after treatment in Fayetteville, AR. Along with our extensive inspections to eliminate the source of infestations, we take preventative measures to guarantee pests stay gone for good. In the rare event, you notice issues with pests soon after receiving one of our treatments, we'll return to your home free of charge to retreat any infested areas. That's because customer satisfaction and effective services are our priorities.
About Flex Control
Jump To A Service:
ADDRESS
11928 Callis Rd.
Bentonville AR 72712
HOURS
M-S: 24/7
SUN: Closed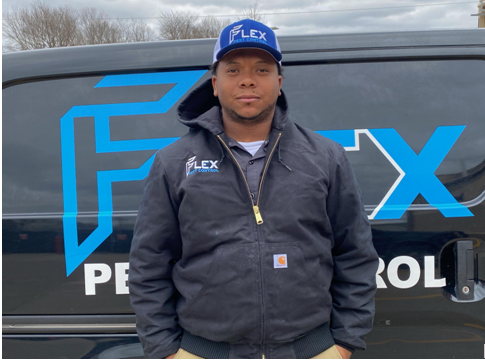 Pest Control
Protect Your Property and Family With Top-Rated Mosquito Control in Fayetteville, AR
Mosquitoes pose one of the greatest threats to family, friends, loved ones, or customers visiting your residential or commercial property. As carriers of some of the worst global diseases, mosquitos can negatively impact your health. Therefore, it's essential not to ignore large numbers of mosquitoes gathering inside or outside your property.
During seasonal weather changes, mosquito problems can worsen. The hottest months of the year create the humid conditions that allow these pests to thrive. Furthermore, increased rainfall and airborne moisture make mosquitoes particularly prominent during the summer. Whether you require seasonal or year-round mosquito control, Flex Pest Control is here for you. When you enlist our experts, you'll receive the following:
A thorough inspection of your property to identify the source of mosquito infestations

Standing water removal and sterilization to eliminate mosquito breeding grounds

Routine treatments to address particularly stubborn mosquito populations

Excellent customer service and a custom pest control plan from qualified professionals

And much more!
Effective Treatments and Techniques for Mosquitoes
Flex Pest Control professionals train to understand mosquitoes' behaviors and mating patterns. As a result, we can effectively target and eliminate the source of infestations causing mosquito issues for your home or business. We can efficiently perform sterilization or standing water removal to eliminate mosquito breeding grounds in your vicinity.
Routine Treatments During Seasonal Mosquito Population Increases
From April to September, mosquito populations thrive on seasonal weather changes like increased heat and humidity. During these months, our team offers routine treatments for your property to keep pest populations at bay. We'll come once a month to eliminate any new or lingering sources of mosquito infestations on your residential or commercial property.
Pest Control
Protect Your Home or Business With Termite Control in Fayetteville, AR
Termites can cause various problems for your home or business. With their annoying habit of chewing into the wooden structures that support your property, you could lose thousands of dollars from a termite infestation. That's why it's essential to call pest management experts to perform termite removal treatments the moment you notice a problem. Call our team to schedule termite removal and pest control in Fayetteville, AR, today.
Certified Termite Removal Experts Using the Best Technology Available
Our certified and licensed professionals use only the best tools and techniques to eliminate termite populations from your home or business. We believe in quality and want your property to remain free of termites long after our services. At Flex Pest Control, we use the number one Sentricon® System with Always Active™ technology. This control system attacks termite infestations at their source to remove pest populations. Keep termite populations at bay for good by calling our experts today.
A Locally Owned and Operated Business Invested in Our Community
When you invite pest management professionals into your home, you want to know these strangers are trustworthy and discreet. As a locally owned and operated company, Flex Pest Control has earned the trust of Fayetteville home and business owners by providing top-quality pest control, a solid work ethic, and excellent customer service. We treat every client like a family member and work hard to keep you happy throughout the pest removal process.
Pest Control
Keep Your Nighttime Sanctuary Safe With Bed Bug Treatment in Fayetteville, AR
Bed bugs can travel into your home from many different sources. Regardless of where they come from, these unwanted pests can degrade the place you should feel most relaxed. Even when you realize you're experiencing a bed bug problem, bed bugs hide in hard-to-reach areas and might be impacting your home far more than you realize.
Calling qualified experts to provide effective treatments for bed bugs the moment you notice the problem is crucial. In the worst cases, these intruders can cause infections, itchiness, and even anaphylaxis. Don't let your property experience a long-term attack from bed bugs — call the professionals at Flex Pest Control. When you work with our experts for bed bug treatments, you receive the following:
Thorough inspections of each room on your property to identify the extent of the bed bug problem

Effective and efficient bed bug treatments to eradicate all those pesky intruders

Long-term routine services to keep bed bugs at bay

A 30-day pest elimination guarantee

Peace of mind that we can handle future infestations

And much more!
Premium Heat Treatments With High-Quality Tools
The most effective way to remove bed bugs is to apply heat treatments that ward off these pests. However, not every pest control management company has the tools and technical understanding to perform these treatments. Our qualified, licensed, certified professionals offer effective bed bug control by utilizing the latest heat treatments. With the best services in the area, you can count on our experts to eliminate bed bugs from your property.
Pest Control
High-Quality Rodent Control Specialists for Your Home or Business in Fayetteville, AR
Have you started noticing small animal droppings in your kitchen or drawers? Do you frequently hear scratching coming from your walls or ceiling? These worrisome signs might indicate your property is experiencing a rodent problem. From small mice to rat infestations, rodents represent some of the least welcome pests in any home or business. These invaders can chew through electrical wiring for residential properties and make your home filthy. Meanwhile, business customers who notice a rat or mouse problem are highly unlikely to patronize your establishment again. Therefore, getting rodent control in Fayetteville, AR, is the key to protecting your residential or commercial property.
Attacking Rodent Infestations by Identifying the Source
Many causes could lead to a rodent infestation. When you call Flex Pest Control, we work hard to identify the root cause of your mouse or rat problems. Whether your issues originate from food sources or other organic matter, we implement rodent control solutions to remove the vermin permanently. Our qualified professionals can protect your residential or commercial property from a damaging rodent infestation.
Comprehensive Treatments Using Safe and Humane Methods
While you might not want mice or rats taking up residence in your home or business, they are still living creatures and deserve fair treatment. That's why we use safe and humane methods to remove rodents from your property. When you choose Flex Pest Control, you can be confident our team will protect your home with the finest methods. Call today to request a free quote or schedule rodent removal services.
Pest Control
Targeted Mole Control Services To Protect Your Yard in Fayetteville, AR
When most property owners consider the types of pests that could threaten their space, they usually don't think about moles. But moles pose an imminent threat to your outdoor spaces. As they burrow and dig holes in your front and back yard, moles damage plant root systems and wreak havoc on your greenspaces. If you notice small mounds of dirt accumulating in your yard, you likely have a mole infestation on your hands. Call Flex Pest Control to address your home's mole problem quickly and effectively.
Our Professionals Remove Moles With Effective and Humane Methods
Removing moles is a complex process requiring specialized tools and techniques. Because these rodents burrow into your yard with complicated tunnels, they require experts with mole removal experience to ensure proper elimination. Our exterminators use safe and humane techniques to remove moles from your property. These services will eliminate the unsightly dirt mounds moles cause in your yard and save you hundreds or thousands in yard damage from mole tunnels. Experts from Flex Pest Control attack mole infestations at the source, breaking up tunnel systems that allow mole populations to thrive. Call us to service your property if you notice signs of mole damage.
Flex Pest Control offers the most highly qualified professionals in the area to remove moles from your property. We can perform same-day services to protect your yard from mole-related issues. Our experts can also inspect your property thoroughly to check for signs of other unwanted invaders. Working with Flex Pest Control means having the best in the industry. For more information about pest control in Fayetteville, AR, from top-rated experts, call (479) 404-0800 and request a free quote from Flex Pest Control.
Love From Our Clients
Read Our Online Reviews