The Best Choice for Pest Control in Elkins, AR
Same-Day Service
Flex Pest Control proudly provides same-day service, Monday through Saturday. We guarantee immediate results for pest control emergencies.
Award-Winning
There's no doubt about it. Our track record proves that we're the finest pest control service in the region, as locals trust our dependable services and fair rates.
Pest Control
Expert Pest Control in Elkins, AR
Pest infestations are every homeowner's worst nightmare. Damaging your property and putting your health at risk define these loathsome creatures' existence. Pest problems require dedicated care, care from professionals like Flex Pest Control, as we're more than capable of handling all types of pest problems.
Our pest management experts work with you by developing a thorough pest control plan optimized for your unique circumstances. Identifying the types of pests plaguing your home and then eliminating them with the utmost care and precision defines who we are, and we can even pest-proof your home once and for all. Our pest control services excel at treating countless types of pest infestations, such as:
Termites

Mosquitoes

Crickets

Ants

Cockroaches

Spiders

Flies

Earwigs

And more!
Residential Pest Control Services
Flex Pest Control recognizes the importance of protecting homes from pests because feeling safe and comfortable within your own property is a necessity. While pests may attack your home's interior and exterior—gardens, yards, fences, and storage spaces, among other spaces—our experienced technicians have what it takes to tackle these issues, no matter what you're dealing with or how bad your problem may seem.
About Flex Control
Jump To A Service:
ADDRESS
11928 Callis Rd.
Bentonville AR 72712
HOURS
M-S: 24/7
SUN: Closed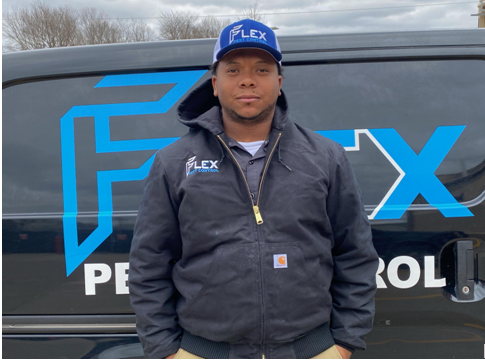 Pest Control
We Offer Effective Termite Treatment in Elkins
Flex Pest Control finds that termites are among the most devasting and troublesome pests. Termites quietly infiltrate your home. They feed on fences, structural supports, and other wooden items, causing expensive repair bills, serious damage, and, worst of all, serious stress for you, the unfortunate homeowner. You have the professionals at Flex Pest Control backing you up, as we can both prevent and address termite infestations, providing a unique blend of preventative and direct care that makes us the best choice for termite and pest control in Elkins, AR.
Pest Control
Count on Flex Pest Control for Mosquito Control in Elkins
We love summertime here in Elkins; warm summer temperatures and beautiful sunshine make our town a wonderful place to be during these special months. This season brings a terrible pest, however: mosquitoes. Mosquitoes put a damper on your summertime plans, causing itchy and painful bites that make life miserable for you. Flex Pest Control is your number-one choice for mosquito control in Elkins because our trustworthy and dependable professionals have years of experience vanquishing mosquitoes of all types, protecting homeowners from deadly diseases—Malaria, yellow fever, and Zika, to name a few. Here's our approach to mosquito control:
Inspect your home for signs of mosquito infestations

Target mosquito breeding sites and standing water with extreme precision

Use safe, effective treatment techniques to eradicate the mosquitoes

Empower you to take mosquito control into your own hands
No more worrying about itchy mosquito bites. Flex Pest Control is your dependable provider of mosquito and pest control in Elkins, AR. From the moment you work with us, you're with family, and together, we can make your home mosquito-free.
Common Mosquito Breeding Sites
Mosquitoes are more than just annoying. Placing their piercing antennae into your skin, they remove blood from your body. This process may involve the transferal of diseases into your bloodstream; don't assume that you are immune just because serious mosquito-borne illnesses tend to be rare in the United States. Mosquito breeding sites include the following:
Tire swings: 

Your children might love playing on your tire swing, but did you know that standing water inside tires often attracts mosquitoes?

Storm drains: 

Storm drains may gather standing water, mosquitoes' favorite environment to live in.

Gutters: 

Gutters can clog due to external debris and attract mosquitoes in the process.

Flowerpots: 

Over-hydrated flower pots might have just enough water for mosquitoes to enjoy.
Flex Pest Control has what it takes to clean these breeding sites without incurring any damage to your property. We prioritize a minimally invasive approach, minimizing disruptions to your everyday life and routine while ensuring top-quality care. You will see your quality of life skyrocket almost instantly after working with our experts!
Pest Control
Elkins' Professional Mosquito Control Experts Make a Difference
You may feel tempted to use over-the-counter mosquito tools, as they can seem like an affordable and quick way to address mosquito issues. Sprays, lamps, and traps: all of these tools provide shaky results, at best. Flex Pest Control guarantees a premium standard of care, using industry-grade equipment to eliminate mosquitoes at the source, providing long-lasting relief that stops future infestations in their tracks. Say goodbye to those itchy, red mosquito bites once and for all when you work with Flex Pest Control.
Our Approach to Mosquito Control
Flex Pest Control will work tirelessly to rid your home of any mosquito infestation, no matter the size or scale, giving you the peace of mind and safety that you want and deserve. We use a variety of treatment styles and techniques that focus on holistic, comprehensive coverage, specifically addressing those breeding sites and sources of standing water.
We specialize in consistent, focused treatment during mosquito season—April through September—that keeps your home's anti-mosquito defenses up to par, reapplying any treatments to keep everything running smoothly. We don't cut corners with our mosquito control protocol. We will:
Thoroughly inspect your property to identify problem spots, no matter how hidden or obscure

Offer comprehensive treatment options that address mosquitoes and other pests year-round and seasonally

Provide transparent, honest pricing that doesn't break the bank and doesn't have any nasty surprises

Include a satisfaction guarantee with each project; if you're not happy, we're not happy, and we'll return to your property within 24 hours
Pest Control
Reliable Bed Bug Treatment in Elkins
We want all homeowners to enjoy a peaceful night's rest. Unfortunately, bed bugs, despite what you might think, are an incredibly common pest that robs homeowners of proper sleep and cause irritating, itchy bites. These tiny creatures don't respond well to DIY cleaning methods, so if you're struggling with bed bugs, you know who to turn to: Flex Pest Control.
How We Handle Bed Bug Infestations
Bed bugs are small and hard to notice. Nearly invisible to the naked eye, these disgusting insects love to hide in warm mattresses, carpets, and couches, but you may even find them living inside cabinets or behind a baseboard, waiting to make your life miserable. When it comes to bedbug and pest control in Elkins, AR, few companies offer the level of dedicated and focused care that our team at Flex Pest Control provides, as we offer:
Friendly, comforting technicians that listen to your thoughts and concerns

Detailed, rigorous inspections that leave no stone unturned in the search for bed bugs

Unmarked service vehicles that ensure maximum privacy and comfort

Flex Pest Control's unique 30-day satisfaction guarantee ensures lasting results above all else.
Pest Control
We Provide Mole Control in Elkins
Moles are a particularly loathsome type of pest. All of the effort and care you put into your home's garden and yard, making into the envy of the block, comes to nothing when these rodents decide to set up shop in your yard, creating ugly mole hills and tunnels that uproot flowers and grass. Flex Pest Control understands just devastating and frustrating mole infestations can be, especially for homeowners who don't notice the signs until it's too late, which is why we proudly offer mole control services that deal with mole infestations at the root. 
Through our many years of experience, we've come to recognize some truly distressing yet noticeable signs of mole infestations. Here are some of the most common indications that you're experiencing a mole infestation.
Unsightly, bothersome dirt mounds, especially near gardens and flowerbeds

Clumps of loose soil that collapse with ease

Strange burrowing noises

Raised lines that cover your yard in a diagonal fashion

Larval insect activity near mounds and dirt lines
What Makes Our Mole Control Specialists Unique
Flex Pest Control's mole specialists possess years of experience. Armed with the right licenses and certifications, our Quality-Pro Certified experts have what it takes to handle even the nastiest and largest mole infestations. We even offer same-day service, and we'll send technicians to your property as soon as we can to eradicate any and all moles.
Pest Control
Rodent Control in Elkins
Rodents are truly disgusting creatures, as they infiltrate your home when you least expect it, leaving filthy droppings behind, chewing wires, and spreading dangerous diseases to you and your family. Rodents can seriously damage your home's structural system, so it's crucial that you have rodent control experts you can trust, experts ready at a moment's notice. Flex Pest Control shines as Elkins' finest rodent control service, as we have the equipment needed to identify rodents deep inside your home, guaranteeing that these creatures will leave once and for all. Flex Pest Control can and will get the job done so you can enjoy a home free of rodents, no matter how many rodents you're struggling with.
Flex Pest Control takes a unique approach to rodent control, a comprehensive, no-holds-barred take on dealing with rodents of all types. Our rodent control services will:
Scan your home's entirety to locate any rodents present, determining the scope and scale of the problem

Use safe, rodent removal traps and equipment

Provide instruction as to how to avoid future infestations

Offer follow-up care to check on your home's safety
Signs of Rodent Infestations
Flex Pest Control wants all homeowners to understand the signs of rodent infestations so they know when to call for professional help. Rodents may be fairly quiet, but they do create scampering and scurrying noises that you can hear if you listen closely. Additionally, chewed-up wires, paper nests, and dark droppings located throughout your home, but especially inside dark spaces, almost certainly guarantee that you need rodent and pest control in Elkins, AR, as quickly as possible.
Love From Our Clients
Read Our Online Reviews