The Pest Control in Rogers, AR, You Need for a Pest-Free Home
Same-Day Service
Convenience is important for our customers, and pests never rest. Our hassle-free same-day service will save you time and money while giving you peace of mind knowing you are protected.
Award-Winning
Our knowledgeable pest control specialists use cutting-edge technologies and techniques to protect your home and deliver the best pest control results. The quality of our pest control in Rogers, AR, speaks for itself!
Pest Control
Award-Winning Pest Control in Rogers, AR, for All Types of Pests
At Flex Pest Control, pest management is our bread and butter. Pests in your home are more than just an annoyance and can damage your home and possessions. Our highly trained staff has experience dealing with all kinds of pest infestations and can provide homeowners with much-need relief from common pests and vermin. We can keep your home comfortable and pest-free with our industry-leading control services. 
Same-Day Pest Control Services
We understand that pests don't wait, so neither do we. As long as you give us a call before noon, we can be at your house on the same day. That way, you won't have to wait to get relief from bothersome pests ruining your comfort at home. We pride ourselves on getting to work sites quickly and getting the job done efficiently. You can rest easy knowing that our award-winning pest control services keep your home protected by eliminating your pest problems.
Thorough and Effective Extermination
The most important part of pest control is doing a thorough job and having a solid pest control plan. We aim to thoroughly exterminate and remove all signs of invasive insects and rodents. Our local technicians have years of experience and receive an extensive amount of training to provide effective pest control in Rogers, AR. Our promise is to take care of our customers and provide the best service possible in the pest control industry.
Lasting Pest Control Protection
Pest control doesn't mean much if the pests return after a short period. Our award-winning pest control services can ensure that we get rid of pests so they don't come back. We have the utmost confidence in our services — so much so that we offer a 100% guarantee. If we miss any pests during our work, we will re-treat your home at absolutely no charge to you. We take the quality of our work seriously and always work to improve our skills and techniques.  
About Flex Control
Jump To A Service:
ADDRESS
11928 Callis Rd.
Bentonville AR 72712
HOURS
M-S: 24/7
SUN: Closed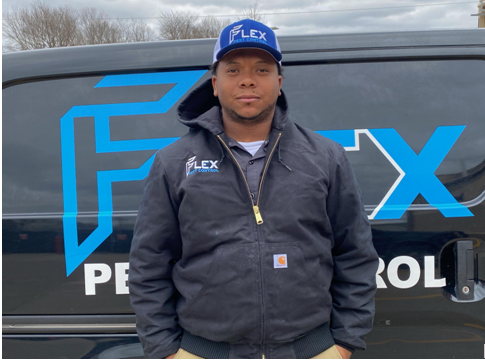 Pest Control
Industry-Leading Bed Bug Treatment in Rogers, AR
Bed bugs are one of the most difficult pests to remove, and they can quickly take over your house by infesting bedding, clothing, furniture, and more. Bed bugs breed very quickly, so it's crucial for you to nip an infestation in the bud. Despite the name, bed bugs can infest virtually any kind of cloth or textile, like clothing, carpets, and towels. If you want to eliminate bed bugs thoroughly, then you need a professional like Flex Pest Control on the case. Some of the most common signs of a bed bug infestation include:
Small red or brown spots on mattresses

Pale yellow skins

Musty odor around mattresses

White, oval-shaped eggs

Visible insects
Completely Remove Bedbugs
You should never neglect to treat a bed bug infestation because it can spread to other parts of your home. Our bed bug treatments aim to remove all signs of bedbugs through heat and chemical treatments. We are a much better choice than trying DIY methods because they are often ineffective and can make the problem worse. When you work with us, those bed bugs won't even know what hit them. Our cutting-edge removal techniques isolate and remove bed bugs as the source.
Getting rid of bed bugs is great, but the real trick is keeping them from coming back. Preventative pest control services are our specialty at Flex Pest Control, and we work tirelessly to ensure bed bugs won't come back. Our treatments will protect your possessions and prevent bed bugs from taking root in the future. If you find evidence of bed bugs within 30 days of receiving our services, give us a call, and we will re-treat your home for free because we take our commitment to quality work seriously!
Pest Control
Affordable Mosquito Control in Rogers, AR
Mosquitos are not only an annoyance but are also a potential vector for diseases like Chagas, Dengue fever, and West Nile virus, which can infect you, your family members, and your pets. Our comprehensive mosquito removal services can get mosquitos off your property, so you can relax and have peace of mind.
When you work with us, you can kiss those pesky mosquitoes goodbye forever! We are the first line of defense between you and mosquito-borne disease and sickness, so you can have peace of mind knowing your family stays protected. We use the latest and most advanced mosquito removal techniques, including:
Initial examinations to identify breeding grounds

Removing bodies of standing water

Targeted treatments for problem areas

Monthly mosquito treatments for lasting protection
Year-Round Mosquito Relief
Mosquitos have a reputation for breeding quickly, and a small infestation can rapidly grow at virtually any point of the year. A single female mosquito can lay up to 100 eggs every few days, allowing populations to multiply rapidly. Mosquito populations tend to grow fastest in the spring and summer when temperatures and humidity are the highest, but they can also reproduce in the fall. Our state-certified pest control technicians offer monthly mosquito relief year-round to keep mosquitos out of your home, especially during their active season between April and September. 
We Provide Complimentary Mosquito Exams
All of our mosquito removal processes start with a complimentary exam to identify trouble areas and where mosquito populations are the largest. Our thorough initial exams are what allow us to provide comprehensive services that remove every trace of these pesky insects from your house. Mosquitoes tend to congregate in dark, damp places, such as under sinks, showers, and laundry rooms. Mosquitoes can also live in gardens and tall grasses near your home. Wherever they are, our examination will find them and root them out. 
Pest Control
Long-Lasting Termite Treatment in Rogers, AR
Termites are a particularly pressing pest because they can cause significant damage to your home investment. Our highly trained technicians specialize in comprehensive termite removal. We start with a full-home examination to find termite activity and locations, then create a unique treatment plan sensitive to your specific needs as a homeowner. Termites can infest various sources of dry wood, like fences, decks, utility poles, and dead trees. Some of the most common signs of termites we look for include:
Sawdust near wood fixtures

Shed skin and wings

Pinpoint holes in the wall

Buckling wood floorboards

Peeling paint
Best Termite Extermination Services in the Area
When you work with us, you can expect the best termite pest control in Rogers, AR. We utilize the Sentricon System technology to identify and remove termite infestations where they start. Our Sentricon System is highly accurate and environmentally friendly, removing bothersome termites without damaging your home or yard. The Sentricon System has Always Active technology that ensures it is always acting as a barrier between pests and your home. Our state-certified technicians treat every home as if it were their own, so you can count on superior service and care. Termites won't stand a chance when our team is on the case!
Pest Control
Rodent Control in Rogers, AR
Those rats in your home aren't as cute as Mickey Mouse, so it's in your best interest to get rid of them as quickly as possible. Aside from damaging your home and eating all your food, rodents can also carry harmful diseases, such as salmonella and typhus. We design our precise treatments to remove all traces of rodents, including mice, rats, squirrels, and more. Our years of experience let us get the job done quickly and efficiently. Our technicians can identify rodent nests and remove unwanted guests from your house with little to no additional hassle on your part. Let us take care of your rodent problem in your home in Rogers, AR!
Rodent-Free Is Our Guarantee
The most important part of pest control services is prompt and rapid attention. Call us before noon, and we can be there the same day to perform rodent removal. Our precise treatments can get rid of rodents at the source, whether they are in your walls, attic, or yard. When you work with us for rodent control, we will:
Identify where the rodents are and how many of them there are

Safely remove them with humane rodent traps

Seal holes and openings to keep rodents out from future infestations

Double-check that you have a rodent-free house going forward
We take our work and customer satisfaction seriously, so, like all of our pest services, we will re-treat your home for 100% free if you find rodents afterward. Rodent-free is our guarantee, and we always make good on our promises. Let us be the solution to your current rodent problem! Call today at (479) 404-0800 to learn more about our rodent pest control in Rogers, AR!
Pest Control
Mole Control in Rogers, AR
When people think of pests, most won't think about moles; however, these cute critters can wreak havoc on your home and yard with their burrowing activity. These tunneling mammals can completely destroy your landscaping by creating tunnels and hills. These tunnels can pose a safety hazard as you or your family members can trip and fall over them when outside. In addition, these tunnels can be an infiltration vector for other kinds of pests, such as ants and termites. Our mole control services can guarantee fast and efficient mole removal to protect your home and yard. 
Mole Treatment and Removal Services
When getting rid of pesky moles, timeliness and effectiveness are of the utmost importance, especially if you want to keep the pests away. That's why at Flex Pest Control, we use scientifically proven methods, such as mole baits, to coax moles out of their tunnels, capture them, and remove them. Our mole-control services get rid of moles at the source without damaging your landscaping and keep them from coming back in the future. We provide fast and effective solutions, which is why we are the number one choice for pest control in Rogers, AR, and surrounding areas. 
We have the best experts in the pest control industry who perform our hassle-free and friendly pest control services in Rogers, AR. As a locally owned business, we provide an intimate level of services and strive to form lasting professional relationships with the members of our community. Pests are no fun to deal with and can cause significant damage to your property. Get rid of pests with expert pest control in Rogers, AR, from Flex Pest Control. We pride ourselves on our commitment to providing award-winning pest removal and pest control treatments that keep your home safe, comfortable, and pest-free!
Love From Our Clients
Read Our Online Reviews