Top-Rated, Low-Cost Pest Control in Siloam Springs, AR, From $45/Month
Get Service When You Need It
Pests won't wait for a convenient time to invade your home. Eliminate pests at a moment's notice with our same-day services.
Top-Rated Services
At Flex Pest Control, we believe quality matters. That's why we use only the best tools and techniques to protect your home and the environment.
Pest Control
Comprehensive Pest Control in Siloam Springs, AR
Discovering a pest infestation in your home can do way more than just gross you out. Certain pests like termites and mosquitoes could cause damage to your property and carry diseases. That's why it's essential to call pest management specialists to remove vermin from your property.
From rodents to insects, there are many unwanted invaders that could infest your property. At Flex Pest Control, we understand the best, most environmentally friendly methods to develop a pest control plan for your home. The types of pests that we can handle with ease include:
Ants

Termites

Bed bugs

Rodents

Mosquitoes

Moles

Spider

Wasps

Roaches

And more!
Resolve Pest Problems in Your Residential or Commercial Property
When you discover ants under your kitchen sink or a spider colony in your warehouse space, it's time to call professionals to remove these pests from your property. Our top-rated pest management professionals offer excellent service to keep your home or business pest free.
Although you might want to DIY your pest control, calling professionals ensures your property receives a thorough inspection and comprehensive services. We treat every customer individually and work hard to create a custom pest management plan that suits your space. Don't let pest problems degrade your home or business—call Flex Pest Control for service today.
Certified, Licensed, Insured, and Environmentally Conscious Services
While you might realize it's time for pest control services, it can be daunting to consider the prospect of spraying your property with chemicals. Some clients worry that pest removal strategies could cause harm to their children or pets.
At Flex Pest Control, we prioritize the health and safety of all our clients above everything. Our professionals receive extensive training along with all the certifications and licensing necessary to ensure detailed, professional services. We use the best tools in the industry to avoid mishaps from faulty or old equipment.
All our chemicals are EPA-approved and environmentally friendly. These formulas undergo rigorous testing to ensure that interior application doesn't pose any threats to inhabitants of the space (besides those pesky pests). We also use organic substances to take our health standards a step further than our competitors.
About Flex Control
Jump To A Service:
ADDRESS
11928 Callis Rd.
Bentonville AR 72712
HOURS
M-S: 24/7
SUN: Closed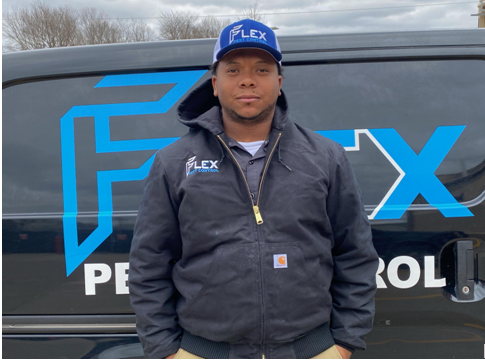 Pest Control
Effective Termite Treatment in Siloam Springs, AR
Most homeowners realize that termites pose an immediate threat to their property. With their affinity for munching on the wood of your home's structure, your most important investment could suffer thousands of dollars worth of damage. When you hire Flex Pest Control specialists to remove termites, our professionals will:
Thoroughly inspect your property to identify the infestation source

Utilize the Sentricon System with AlwaysActive Technology

Prevent future infestations with extensive measures

Restore your comfort and the structural safety of your property.
Our professionals won't stop until we ensure your home's safety. Using environmentally friendly, proven techniques, we give you long-lasting peace of mind for the safety of your home from termites.
Pest Control
Seasonal Mosquito Control in Siloam Springs, AR
If you go outside during the hottest days of the year, it won't take long for you to notice an annoying buzzing sound in the air. That's because mosquitoes thrive in the warm weather that dominates half the year. Not only can these annoying pests cause irritating itchiness, but they also carry harmful diseases like Yellow Fever, Zika, West Nile Virus, and more.
Because of the many threats mosquitoes pose, don't ignore them when you notice them infesting your property. Protect your space by hiring an expert from Flex Pest Control who will:
Thoroughly inspect your property to look for mosquito breeding grounds and habitats

Eliminate standing water and other features that attract mosquitoes

Use only pet and family-friendly chemicals to remove the vermin

Provide routine checkups and preventative services to keep your property mosquito-free

And much more!
Don't let frustrating pests ruin the outdoor barbeque you have been looking forward to all year. Call professionals from Flex Pest Control to restore your interior and exterior comfort with mosquito control. We can provide services to your property at a moment's notice.
Pest Control
Protect Your Nighttime Sanctuary with Bed Bug Treatment in Siloam Springs, AR
Living in Siloam Springs, AR provides all the comforts and entertainment that caused Smithsonian Magazine to name us one of the 20 best small towns in America. However, these sights and sounds also bring visitors who may carry unknown stowaways on their garments and luggage. Once these bed bugs get into your bed, they can hide in the hardest-to-reach places, making removal a task for professionals.
When bringing in specialists to remove your bed bugs, you want to make sure these experts understand how to protect your nighttime safe haven. That's why Flex Pest Control experts always:
Thoroughly inspect your bed and home for signs of bed bugs

Use the most effective heat treatments to remove bed bugs

Protect your family members and pets with environmentally friendly, safe treatments

Perform preventative practices to keep bed bugs out of your space for good
Pest Control
Comprehensive Rodent Control in Siloam Springs, AR
Pests can include unwanted vermin like rodents and small animals that make it into your home. When you start noticing signs like small animal droppings in your kitchen or drawers, scampering noises anywhere within your home's structure, or gnawing marks on any of your property, you might be having a rat problem. However, resolving these uncomfortable infestations require professionals with the skills and tools to safely eliminate these pests.
Efficient, Same-Day Services to Protect Your Home or Business
Flex Pest Control professionals offer efficient, same-day pest control in Siloam Springs, AR, to restore your home's comfort and safety from rodent infestations. With the top-rated services in the area, local home and business owners know they can rely on Flex Pest Control in their moment of need. When you call our experts for service, you always receive the following:
Thorough property inspections to identify the source of the infestation

Sealing services to address holes in your property that might have let in invaders

Preventative practices that block future issues with rodents

Humane elimination of rodents from your property

A satisfaction guarantee to bring you peace of mind through the process
Pest Control
Humane Mole Control Services in Siloam Springs, AR
Most homeowners don't realize the threat that moles pose to their outdoor spaces. With the ability to dig holes and wreak havoc on plant root structures, holes, and dead plants might be just some of the disturbing signs of a mole infestation. When you notice yard issues caused by moles, call experts from Flex Pest Control to humanely and efficiently remove the vermin.
Moles Are Not Welcome in Your Yard Anymore
If you walk outside and notice a bunch of small, circular piles of dirt suddenly appearing in your yard, you might need to call our experts to inspect your outdoor spaces for moles. Despite their annoying habit of ruining your favorite plants in your garden, our experts prioritize humane mole removal practices to protect the living creatures that are no longer welcome in your yard. Rest assured, we are able to prevent moles from destroying the beauty of your outdoor spaces. 
Avoid Financial Losses from Yard Damage with Our Efficient Mole Removal Services
Moles do more than just create eyesores in your beautiful yard. The presence of moles could cause extensive damage to the yard you worked so hard to build and perfect. That's why it's essential for professionals to quickly remove these vermin and restore your yard's safety. Call our experts to efficiently remove moles from your property and perform expert services, including:
Inspecting your yard for moles and other unwanted pests

Utilizing environmentally, family, and pet-friendly practices to eliminate pests

Protect your landscaping as much as possible while performing mole removal

Using efficient methods to remove moles as quickly as possible

Perform same-day services to keep your yard beautiful and avoid expensive damage

And much more!
At Flex Pest Control, we value your yard like our own. That's why we work hard to eliminate potentially dangerous pests that could cause long-term damage to your yard and property. Call our pest control experts today to request a free quote or immediate services for mole removal in Siloam Springs, AR.
Pest Control
Choose the Best Pest Control Professionals in the Area
When deciding who to team up with to remove pests from your home, it's best to go with experts who bring a proven track record of success and excellent customer service. Our professionals at Flex Pest Control earn customers' respect and praise by obtaining the best licensing and certifications while also using the best tools and techniques to eliminate pests. Choosing our team means buying into our incredible values, including:
Community: As a locally owned and operated business, we're proud to serve both residential and commercial clients in Siloam Springs, AR, and the surrounding communities. After years of serving our community, we want every client to feel like part of the Flex Pest Control family. Choose us to get services from locals who understand your needs.

Customer-First Mindset: At Flex Pest Control, the customer always comes first. We go above and beyond to tailor your services to your homes, needs, and desires. Additionally, our experts will work hard to communicate and guide you through the entire process so you never feel in the dark about your pest control plan.

Results: What's the use in calling pest control experts if your home still suffers from an infestation afterward? Flex Pest Control professionals will not leave your property until they perform comprehensive removal and preventative services to keep pests out of your home long-term. Get peace of mind knowing you won't need to call our experts again in a couple of weeks to perform more removal services on your property.

Safety: Overall, we value the safety and comfort of our clients above everything. The point of pest control is to improve your family's comfort and property safety. That's why we use only the best environmentally-friendly removal strategies and test them for safety on pets and children.
When it comes to pest control, get service from the best. With hundreds of positive customer reviews and a proven track record for success, hiring Flex Pest Control ensures the best results for your home or business. Call today to request a free quote or schedule services for your property.
Pest Control
Destroy Pest Problems with Top-Rated Experts at Flex Pest Control
Only eliminate common pests from your home with the top-rated experts in Siloam Springs, AR, and the surrounding area. Along with a consistent track record and excellent customer reviews, our professionals offer a satisfaction guarantee for your pest control in Siloam Springs, AR. Call (479) 404-0800 to request a free quote from the professionals at Flex Pest Control today.
Love From Our Clients
Read Our Online Reviews