The Best Pest Control Service In Bella Vista Starting at $45/Month
Same Day Service
We understand convenience is important for you. That is why we offer hassle-free, same day services, saving you time & energy.
Award Winning
Our treatments are targeted at delivering you results while protecting your home & the environment. We only use the most advanced techniques.
Pest Control
Pest Control in Bella Vista
If creepy crawlers are making you feel uncomfortable, we can help! With our pest control services in Bella Vista, you can enjoy a pest-free home again! Getting rid of pests on your own can be a hassle, but with our pest control treatments in Bella Vista, we make it easy for you to achieve a bug-free home.
Home Pest Control Services in Bella Vista, AR
Who wants to wait days or even weeks for relief from household pests? Certainly not you, and with our pest control in Bella Vista, you won't have to! If you give us a call before noon, we can be at your home that same day. That means that your relief from pests can begin today, and you can have a pest-free home sooner than you ever thought possible. 
Our pest control treatments will protect your home from pests like:
Spiders
Cockroaches
Ants
Wasps
And more
Pest Control is Now More Affordable Than Ever – Starting at Only $45/Month
Here at Flex Control, we think that every homeowner should be able to have the access to quality pest control services that they need, regardless of budget. That's why we are committed to providing pest control services in Bella Vista that are not only efficient and effective but affordable too! 
About Flex Control
Jump To A Service:
ADDRESS
11928 Callis Rd.
Bentonville AR 72712
HOURS
M-S: 24/7
SUN: Closed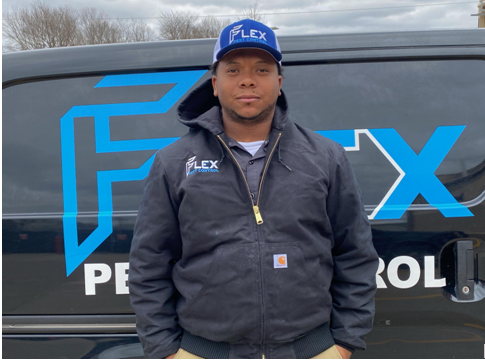 Pest Control
Bed Bug Treatment in Bella Vista, AR
If you've seen one or two bed bugs in your home, chances are that there are many more hiding, just out of sight. Our bed bug technicians in Bella Vista are highly trained to find bed bugs and determine the best course of action to get your home back to the way it was meant to be — bed bug-free! Our bed bug treatment in Bella Vista will provide you with:
An expert inspection to detect signs of infestation 
Effective heat treatments for lasting results
Family-friendly services each and every service
And so much more!
Safe and Reliable Treatments
Dealing with bed bugs doesn't have to mean waiting days or weeks for relief. We utilize specialized heat treatments that kill bed bugs quick, so you don't have to worry about an infestation in your home any longer. Our heat treatments are fast, efficient, and most importantly, effective!
Pest Control
Mosquito Control in Bella Vista, AR
Here in Fort Smith, our summers can easily be ruined by pesky mosquitoes. If your days outdoors are being cut short by itchy mosquitoes, it's time to take your yard back! Here at Flex Control, we offer effective mosquito control in Fort Smith. Not only do our mosquito treatments get rid of pesky mosquitoes, but they also protect you and your loved ones from dangerous viruses like Zika, West Nile, Yellow Fever, and more! When you team up with us, we will:
Send a Fort Smith exterminator to your home to inspect for mosquito breeding sites
Eliminate any standing water around your property.
Treat your home  with family-friendly treatments to achieve amazing results
Return on a recurring basis during breeding season
And more!
With our mosquito treatments, you will be able to enjoy the great outdoors again!
Same-Day Service for Immediate Relief
Here at Flex Control, we believe that one mosquito bite is one too many. That's why we are proud to offer same-day service for immediate relief if you call us before noon. Our exterminators will arrive that very day to assess your situation, and provide you with a comprehensive mosquito control plan in Bella Vista that you can count on. 
Recurring Treatments Keep Mosquitoes Out for Good
The trouble with mosquitoes is that they just seem to keep coming back. With our mosquito control treatments in Bella Vista, you can enjoy long-term relief that lasts all season long! We take a recurring approach to pest control in Bella Vista, which means our experts will come to your home monthly to treat for mosquitoes during mosquito season (April to September), their eggs, and larvae to ensure that your local mosquito population stays down. With recurring treatments, you can enjoy lasting relief!
Pest Control
Termite Treatment in Bella Vista, AR
There are many signs of termite infestation that you can look for, including:
Mud tubes
Swarmers
Discarded wings
And more
However, our technicians are trained to see what you might not. Each of our termite treatment services in Bella Vista begins with a free, thorough inspection of your home to find termites wherever they are hiding. Armed with this knowledge, our termite exterminators can get to work applying treatments that will yield results.
Quick Treatments for Fast Results
When you have termites in your home, the last thing you want to do is wait around for help. Our exterminators in Bella Vista are happy to provide fast and reliable services. We offer flexible, timely scheduling so that your termite problem is resolved as soon as possible. That is why we rely on the number one brand in termite protection, Sentricon® System with Always Active™ to prevent and eliminate any signs of termites at its source.
We Make Termite Treatment Affordable
Termites can cost you serious damage to your home and quite a pretty penny to repair. However, we want to make sure that your termite infestation is stopped in its tracks, and provide you with an affordable way to get rid of your termites. That's why we are committed to offering $100 off of your first termite treatment. 
Pest Control
Rodent Control in Bella Vista, AR
Rodents are a threat all year, they're either seeking out food in the area or searching for shelter in your home. Battling them on your own can be tiresome and ineffective. Here at Flex Control, we provide rodent control in Bella Vista that will leave you protected and rodent-free for the long haul. Want to know how our Bella Vista rodent exterminators can do this? Our elimination process includes:
A thorough inspection of your home
Sealing all access points
Eliminating all rodents using safe and humane methods
Leaving you with a rodent-free home
Indicators of a Rodent Problem
There are many common signs that indicate you're dealing with a rodent infestation, some include: gnaw marks, droppings, noises between the walls or in the attic, damage to electrical cords, and more! While all of these things can be irritating, they also bring along a threat to you and your family's health. If you have seen these indicators, call us! Our rodent control in Bella Vista will bring back order and peace to your home. We'll even provide same day service if you call before noon! Act fast with Flex Pest Control's Bella Vista rodent control.
Rodent Free With Our Rodent Treatments, Guaranteed
We're confident in the rodent control services our highly-trained exterminators in Bella Vista provide, which is why we offer a 100% Satisfaction Guarantee! If you are not completely satisfied after our treatment, we will make sure to do everything we can to make it better. Your satisfaction is our top priority! Contact Flex Pest Control today and put all your rat and mice troubles away.
Pest Control
Mole Control in Bella Vista
All year long, you work hard to keep your home healthy, green, and thriving. Then moles start burrowing under your grass and doing their best to make sure your efforts go to waste! We've seen it all before and are here to help when you need quality mole control in Bella Vista. At Flex Control, our yard mole removal works quickly and safely to get rid of moles and keep them away for good. So once you notice mole activity in your yard, drop us a line and we'll get right to work. We proudly offer same day service so you won't have to wait to reclaim your yard. 
What are the signs of mole activity?
Ridges of raised dirt crossing your yard. These are visible signs of mole tunnelling. 
Areas of dead or discolored grass. These result from root damage caused by mole activity. 
Raised dirt mounds where moles enter and exit their tunnels. 
Areas of loose, squishy soil where mole activity has occurred. 
Love From Our Clients
Read Our Online Reviews