With Affordable Prices and Friendly Service, You Can't Find a Better Provider of Pest Control In Bella Vista, AR
Prompt and Responsive Service
With a pest infestation, every day you forgo service is another day the issue grows worse. Our technicians are available for same-day and emergency service.
Award-Winning Treatment
We only use the most advanced treatment techniques. Our award-winning methods destroy pests while keeping your loved ones and the environment safe.
Pest Control
Providing the Best Pest Control in Bella Vista, AR
Whether it's bugs, rodents, or spiders, if pests are invading your home, you need help fast. Don't attempt to rid your home of pests with DIY solutions. With Flex Pest Control, we deliver a pest-free home with friendly service and consistent, guaranteed results.
Comprehensive Residential Pest Control
At Flex Pest Control, we don't just handle the most common infestations. From spiders to mice, our award-winning treatment methods can handle your pest problems no matter how difficult. With our same-day service, you don't have to wait another day to start your journey toward a pest-free home.
We offer comprehensive and all-inclusive services that can rid your home of any of the following:
Spiders

Cockroaches

Ants

Wasps

Termites

Rodents

And more
Customer-Focused Expert Service
Our core value is our customer-centric approach to service. We provide a 100% satisfaction guarantee and offer a free re-treatment if you're unsatisfied. Our highly-trained control technicians treat you like family and provide a hassle-free process from booking through follow-up.
About Flex Control
Jump To A Service:
ADDRESS
11928 Callis Rd.
Bentonville AR 72712
HOURS
M-S: 24/7
SUN: Closed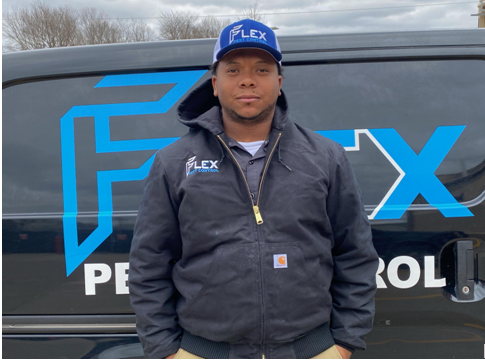 Pest Control
Reliable Bed Bug Treatment in Bella Vista, AR
No one wants to hear the news they have bed bugs, but they're all too common as part of pest control in Bella Vista, AR. We use eco-friendly chemicals that effectively eliminate bed bugs while keeping your family safe and healthy. What's so great about our pest control procedures?
We provide effective quarterly treatments

It's an easy application that doesn't disrupt your life or ability to sleep.

Our bed bug chemical is odorless and non-staining. We can use it to remove pests everywhere, from schools and homes to hospitals.

The chemicals are safe for everyone in your family, including pets.

Our chemicals are all-natural and made from botanical extracts. They work by disturbing the bug's reproduction capability and growth cycle.
About Bed Bug Treatments
Our number one goal is to provide you with a pest-free home while disturbing your routine as little as possible. The treatment process is as follows:
We thoroughly inspect your home and identify every place infested with bed bugs.

We treat your problem areas with a safe, environmentally friendly chemical.

We follow up to make sure you're satisfied with your treatment and schedule an annual check-up to ensure the problem doesn't return.
Pest Control
Effective Mosquito Control in Bella Vista, AR
Mosquitos are among the most annoying pests. Not only do you feel the itchy effects of their bite for days, but they can also bring considerable health risks. While the nature with which mosquitos breed makes them difficult to eradicate, Flex Pest Control's methods can eradicate upward of 90% of them.
Look for these signs you need mosquito eradication services:
You have standing water in your yard, which provides a perfect breeding ground for mosquitos.

You notice an increasing level of mosquito bites on you and your loved ones.

You see the mosquitos in your yard or home.
About Our Mosquito Treatments
The mosquito treatment uses the following process:
We locate all the areas of standing water where mosquitos are breeding. We empty the source and apply larvicide tablets to any remaining water so the eggs never hatch and the mosquitos never mature.

We install a non-invasive fog based station. When females go to lay their eggs, they're infected with the fungus, don't lay their eggs, and pass the infection on to other mosquitos.

We apply a long-lasting eradication chemical to the shaded areas mosquitos rest. When combined with our other methods, this allows the treatment to last up to a year.
Are Mosquito Treatments Safe?
While extremely effective at eradicating mosquitos, our entire process and the chemicals we use are safe for all people and pets in your home and yard. Natural-based and specifically targeted to affect mosquito biology, they won't hurt anyone else who disturbs them.
Pest Control
Expert Termite Treatment in Bella Vista, AR
Termites cause over five billion dollars in damage to American homes every year. They often go undetected until the damage is so severe it causes serious structural risks to your home. Our services provide the following benefits:
We offer a 100% customer satisfaction guarantee. If you're not happy, we re-treat the termites and refund your money.

Our technicians are extremely professional and treat your home like their own. They're friendly and always on time for your appointment.

We're available for same-day service. Call us as soon as you notice signs of termite damage.
About Our Termite Treatments
Our termite treatment uses the following procedure:
Inspection

: We thoroughly inspect your home to pinpoint every area of damage and the source of the infestation. We provide a treatment plan based on the severity of the damage and any special considerations for your home.

Removal

: We use our special, eco-friendly chemicals to eradicate 100% of termites infesting your home. We also address the areas where future infestation may enter your home, providing long-term protection for your entire home.

Follow-up

: We'll check in to confirm you're satisfied with the results of our treatment and schedule an annual appointment to verify the problem never returns. If you're not satisfied, we fix any issues we missed.
Preventing Another Termite Infestation
You can take the following precautions to ensure your termite problem doesn't return once we've eradicated it:
When you remodel your home, use treated lumber and invest in a Termimesh screen for your pipes and wires.

Keep wood and lumber stacks away from your home's exterior and raise them off the ground. Pallets are an easy and affordable way to house your lumber.

Reduce areas of standing water, such as outdoor spigots or uncovered pools. Properly insulate and vent your homes to prevent the moisture buildup that attracts termites.

Seal cracks and holes in your foundation, which is the primary way termites enter your home and access your wooden support structures.
Pest Control
Professional Rodent Control in Bella Vista, AR
A rodent infestation is bad for your family's health and can damage your walls, insulation, and wiring. If a rodent problem requires pest control in Bella Vista, AR, Flex Pest Control provides guaranteed results. We include the following in our "rodent-free guarantee":
Quick and friendly service that disrupts your life as little as possible.

A 30-day 100% satisfaction guarantee to confirm the effectiveness of our treatment.

We promise only to use methods and chemicals that are eco-friendly and safe for your family and pets.
About Rodent Control
What process do we use to eradicate pests from your home? Your appointment will follow these steps:
We identify the source of the infestation. While many people think of attics as the most common area of infestations, they can affect any area of a building. We'll also determine how bad the infestation is.

We set baits for rodents and remove them from your home without using chemicals that are bad for your health. With our vast experience and knowledge of rodent behavior, we have an incredible success rate with catching every rodent giving you problems.

We'll check in for a follow-up to determine whether our removal was effective and continues to prevent further infestation. We'll ask you to schedule a consistent annual appointment to confirm the infestation never returns.
Signs You Need Rodent Control
While some signs of a rodent infestation are obvious, some are more subtle. Look for these common signs:
You notice small droppings in your home, especially in your kitchen and drawers.

You hear scratching or scampering noise but can't pinpoint the source.

You see evidence of gnawing in your food packages, your home's structure, or electrical cords.

You find what resembles a nest made of paper, cloth, and various insulating materials.
Pest Control
The Best Mole Control in Bella Vista, AR
Our pest control in Bella Vista, AR, includes dealing with mole infestations. These pests are common in Arkansas and can quickly destroy your yard, wasting all the money you spend on landscaping. 
You can determine you have a mole problem by the mounds of dirt they leave behind in your yard. Unfortunately, they're notorious amongst pest control specialists because of how difficult they are to get rid of. But Flex Pest Control knows the best methods and materials to remove the problem promptly and with little stress.
Our mole removal services include:
Same-day services when you call us before noon.

Effective methods that our experience proves consistently rid your yard of moles.

A 100% customer satisfaction guarantee. On the rare chance we fail, we return your money and fix our mistakes for free.
Love From Our Clients
Read Our Online Reviews