The Best Pest Control in Farmington Starting at $45/Month
Same Day Service
We understand convenience is important for you. That is why we offer hassle-free, same day services, saving you time & energy.
Award Winning
Our treatments are targeted at delivering you results while protecting your home & the environment. We only use the most advanced techniques.
Pest Control
Pest Control in Farmington
You've invested a lot in your home. Pest control is another investment: one that pays off in peace of mind and comfort within your own home. When you discover spiders, roaches, rodents, or other pests, it's tempting to tackle the problem yourself. But why bother, when you can call highly trained exterminators for affordable pest control in Farmington? Instead, rely on Flex  Control for our experience, quality, and commitment to customer service.
Our highly trained exterminators can help you address many different pests, such as: 
Cockroaches
Ants
Mice
Rats
Flies
Termites
Bed Bugs
Mosquitoes
Wasps
Spiders
And many others!
Award-Winning Service and Highly Trained Exterminators
At Flex, we believe quality is the highest goal of a pest control company. That's why our exterminators carry Quality Pro certifications and stay up-to-date on training and the latest tactics in pest control. We hire the best and train them thoroughly so that the pro who enters your home is an expert not only in getting rid of pests, but also in customer service and clear communication. 
Our exterminators use the best and most effective tools in the industry, which means our advanced treatments provide pest protection that lasts. We're confident in our methods and our people, which is why we offer a satisfaction guarantee: if you find pests in your home between visits, we'll return within 4 hours to re-treat your home for free. 
Same-Day Services for Speedy Relief
A pest problem can strike at any time. Not every pest control company is ready to respond, but at Flex we offer same-day services. There are few things more satisfying than solving a big problem within a single day. Whether you're losing sleep over bed bugs or cleaning out your pantry because of a rodent infestation, our exterminators can help you get relief fast. 
About Flex Control
Jump To A Service:
ADDRESS
11928 Callis Rd.
Bentonville AR 72712
HOURS
M-S: 24/7
SUN: Closed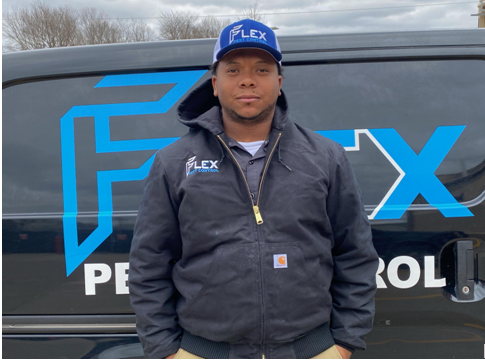 Pest Control
Rodent Control in Farmington
There are a few sure signs that rodents have invaded your home. These can include scratching and skittering noises in the walls or ceiling, small droppings in corners and cabinets, and even gnawed-on boxes and bags in the pantry. Though you might never see a mouse or rat directly, that doesn't mean they can't pose a real danger to your home. Aside from damaging furniture and contaminating food, rodents can chew through electrical wires in your home, increasing your risk of a house fire. When you notice indications of a rodent infestation, it's best to call a professional rat exterminator.
When you call Flex Control for rodent control in Farmington, you can expect: 
A thorough inspection of your home to determine the extent of the rodent infestation. 
A customized treatment plan to safely remove mice and rats. 
Exclusion work inside and outside your home to seal off the tiny holes rodents may be using to get inside. 
Baiting, trapping, and removal of existing rodents. 
Same-day services when you call before noon, to deal with mice and rats ASAP. 
A satisfaction guarantee: if rodents return, so do we, re-treating your property to eliminate the pests.
Pest Control
Termite Control in Farmington
If you're seeing mud tubes on your home's exterior or discarded swarmer wings, alongside warped or hollow-looking frames and doors in your home, you likely have a termite infestation on your hands. Termites can cause structural damage to your home and are responsible for billions of dollars worth of damage each year. Repairs for termite damage often come out of homeowners' pockets because most insurance policies won't cover it. Rather than foot a huge bill to repair what these insects destroy, tackle the problem early (and cost-effectively) with help from our termite exterminators. 
When you call Flex  Control for termite control in Farmington, you'll receive: 
A comprehensive termite inspection from one of our experienced, Quality Pro-certified technicians. 
Same-day services to help eliminate termites quickly and stop them from doing additional damage to your home.
Sentricon® termite baiting products used to eliminate pests at the source. 
Award-winning customer service at affordable prices from a locally owned pest control company you can trust. 
Pest Control
Bed Bug Treatment in Fort Smith, AR
At Flex, our team's goal is to help you maintain a comfortable home for your family by providing effective treatments and outstanding customer service. Our treatments eradicate bed bugs from your home quickly and efficiently, so you can rest easy knowing that your loved ones are protected. Our professional bed bug treatment in Fort Smith includes:
A comprehensive inspection of your entire home
Effective heat treatment that will completely kill bed bugs
Quality service that is child & pet-friendly.
A 30-day satisfaction guarantee
And so much more!
A Complete Inspection for Thorough Protection
It's nearly impossible to get rid of bed bugs on your own. With our team on the job, we will inspect your entire home for these tiny pests, giving you a reliable solution that will last. During our in-home evaluation, we will scour all the rooms and furniture for bed bugs. After that, one of our expert bed bug technicians will treat your property as soon as possible, so you can get back to the comfort of your home in no time.
Pest Control
Bed Bug Treatment in Farmington
A good night's sleep isn't much to ask for. Unfortunately, bed bugs don't seem to care. That's why, at Flex Pest Control, we do whatever it takes to get rid of them! Bed bugs are a common nuisance in Northwest Arkansas but we're here to provide fast and reliable relief. Our bed bug treatment in Farmington is risk-free and provides your family with minimal disruption. That way, you can focus on getting some sleep and we'll do the rest!
With Flex Control, you can expect:
An in-depth home inspection.
Eco-friendly heat treatments that keep your family safe from dangerous chemicals.
Reliable, prompt service from local professionals. 
Guaranteed satisfaction!
Same-Day, Fast Relief From Bed Bugs
When bed bugs show up in your home, you shouldn't have to wait for relief. We understand that it's a stressful experience so, at Flex, we offer same-day service. Don't spend a single unnecessary moment with bed bugs while you wait for help. Call the fast, local professionals today to get rid of bed bugs in your home for good. 
Pest Control
Mosquito Control in Farmington
When it comes to a pest as hazardous as mosquitoes, you need mosquito control in Farmington that you can trust. With Flex Control keeping your yard safe, that's exactly what you'll get! We provide long-lasting relief from mosquitoes, their itchy bites, and the diseases that they carry. There's no need to put up with mosquitoes in your yard all spring and summer. Instead, let your local mosquito control experts send them packing. 
With our mosquito control, you can expect:
A thorough inspection of your outdoor spaces to find mosquito breeding areas.
Removal of all standing water on your property.
Advanced spray treatments to eliminate mosquitoes quickly.
Monthly service during mosquito breeding season.
And more!
Protection from Mosquito-Borne Disease
They don't look like it but mosquitoes are some of the most dangerous animals on Earth. Our local mosquitoes can carry dangerous illnesses like Malaria, West Nile Virus, and La Crosse Encephalitis. To prevent them from putting your loved ones in danger, look to the pros at Flex Control to keep your yard mosquito-free. Call today to take advantage of our available same-day service! 
Pest Control
Mole Control in Farmington
You've worked hard to maintain a beautiful home, don't let moles ruin it! These mammals tunnel underground, leaving behind ridges and mounds of soil that are not just unsightly but are also tripping hazards and make it impossible to mow your home correctly. Their elusive nature and underground burrows make it extremely difficult to eliminate moles yourself. That's why you need our mole control in Farmington. We'll get started as soon as the same day, protecting your home and your wallet.
Our mole control in Farmington includes:
Prompt, friendly service from local technicians.
An evaluation of your home to confirm mole activity.
Scientifically proven bait that targets moles at their source.
Minimally invasive treatment that doesn't damage your grass further.
Total removal of all moles on your property.
Love From Our Clients
Read Our Online Reviews