Award-Winning Pest Control in Farmington, AR
Same-Day Services
Things get uncomfortable when you notice a bug or rodent sharing your home. We calm nerves and put phobias to rest with same-day, 24/6 services.
Over 950 Five-Star Reviews
We have a dedication to excellence and a 100% customer satisfaction guarantee. We keep returning until our customers are pleased, earning us almost 1,000 five-star reviews.
Pest Control
Invest in Pest Control in Farmington, AR
Your house is your greatest investment, so ensuring your floors are clean and your walls and ceilings are sturdy is paramount. However, from termites and mice tearing through wood and other household materials to roaches and mosquitos carrying diseases that irritate and infect the skin, protecting your home and your family can become an issue. Rather than try DIY methods, invest in Flex Pest Control for guaranteed results in Farmington, AR. 
Our licensed technicians have years of experience dealing with pest problems, including the following:
Ants

Mice and rats

Cockroaches

Flies

Mosquitos

Termites

Bed bugs

Spiders

Moles

And more!
Industry Experts With Award-Winning Services
How often have you called for an exterminator and found bugs and rodents lingering long after professional treatment? When this happens, you'll believe these services are a waste and want to return to sticky traps and toxic store-bought sprays. Only industry experts with years of experience can offer the relief and peace of mind you deserve, so trust Flex Pest Control. 
If you're dissatisfied with our services, we're dissatisfied as well. That's why we strive for accurate and effective methods that only come with state-of-the-art tools and equipment. Each team member also undergoes constant training, keeping in step with the latest industry advancements to ensure long-lasting results. These methods have netted us nearly 1,000 five-star reviews, earning us the "Best of Northwest Arkansas" distinction in 2020 and 2021.
24/6 Assistance
With different types of pests always lurking around Farmington, it's not uncommon for one mouse, spider, or cockroach to enter your warm, inviting home and not want to leave. Since that's how most infestations start, call an expert when you notice that first bug or rodent before they start popping up everywhere. We take your call 24 hours a day, except Sundays, and if you call before noon, we'll conduct same-day pest control in Farmington, AR.
About Flex Control
Jump To A Service:
ADDRESS
11928 Callis Rd.
Bentonville AR 72712
HOURS
M-S: 24/7
SUN: Closed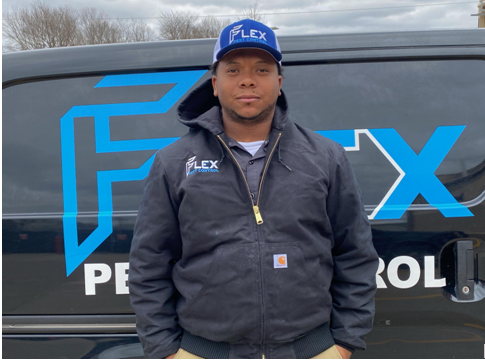 Pest Control
Humane Rodent Control in Farmington
Since mice and rats undergo cold stress in conditions below 70 degrees, they scour for a warm, dry environment to hunker down in during our 25-degree winter lows. However, we're not alone since these rodents infest about 21 million homes nationwide each winter, looking for shelter, food, and water. Although it's bad enough they share our homes during the colder months, they usually refuse to leave after the weather warms since we offer a constant food source close to their nests. Therefore, the best way to remove these permanent house guests you never wanted is to call for humane rodent control. 
A qualified Flex Pest Control exterminator will conduct the following pest management services for thorough removal:
An in-depth inspection of all levels and corners of your household for signs of infestation

A unique treatment plan that hinges on the severity of your case 

A pest exclusion preventative measure that includes pinpointing all household entry points, from holes in your walls to gaps underneath your exterior doors, and sealing them

Setting up traps around your home with bait

Same-day services that encourage immediate relief

Free re-treatments if rodents return or we didn't eliminate them the first time
Pest Control
Mess-Free Termite Control in Farmington
While worker termites don't live more than two years, the queen in charge of colony growth can live up to 50. Each colony includes up to 60,000 termites that eat anything from wood and cardboard to fabric and sheetrock, causing hollowed doors and frames, weakened household structures, and other damage. They lead to billions of dollars in repairs nationwide each year (costs insurance may not cover), and as the colony grows, problems only worsen unless a professional exterminator eliminates the risk. 
Flex Pest Control offers the following for pest control in Farmington, AR:
A QualityPro-certified exterminator who conducts an intricate termite inspection, which includes checking for emerging swarmers, cast-off wings, and mud tubes on your property

Same-day services that allow us to start treatment immediately if you call before noon 

Sentricon® System with Always Active™ technology in bait traps that supply a slow-release poison once digested, stopping the infestation at the source

100% customer satisfaction guaranteed, which means coming back within 30 days if you're not seeing results and returning annually to maintain the traps
Pest Control
Bed Bug Treatment in Farmington With an Eco-Friendly Touch
Upon noticing these brownish-red, wingless insects crawling around your bed, you'll feel uncomfortable in your home. But when these bloodsuckers make it to your clothes and furniture, you'll contemplate more drastic measures like pesticides and insecticides. While not supposedly dangerous to humans, the EPA claims incorrect use can cause illnesses, so take the safer route with our treatments that include:
An intricate inspection of all potential hiding and nesting spots

Environmentally safe, non-toxic treatments 

An effective bed bug-killing method without adverse effects on family and pets

A 30-day 100% satisfaction guarantee

And more!
A Thorough Investigation
Bed bugs often hide away in crevices and hard-to-reach places, making them (and their eggs) hard to see, let alone target. Therefore, cleaning and spraying your furniture alone might not be enough. So, trust our team to conduct a foolproof inspection that starts with pinpointing all living and breeding grounds. This investigation also separates the mild cases where bed bugs only reside in mattresses and bed frames from severe cases that find them in chairs, curtains, and couches. 
Pest Control
Bed Bug Treatment in Farmington With Minimal Disruption
Bed bugs are common pests especially evident in northwest Arkansas. Whether they've found their way into your home or you picked one up when staying at a hotel or other infested area, they quickly spread, leaving you with fears and anxieties that keep you up at night. When you need to stop the problem at the source, call Flex Pest Control for same-day, risk-free services. We guarantee minimal disruptions, and we'll clean up after ourselves. 
With our pest control plan that eradicates even the worst pest problems, you'll receive the following:
An intricate home inspection from attic to basement

Effective industry leading treatments

Prompt, 24/6 services from locals ready at a moment's notice if you call before noon

Free additional treatments if you're dissatisfied
Immediate Bed Bug Relief
An infestation of bed bugs can leave you squeamish and not wanting to touch potentially infected household areas, especially if you have acarophobia that keeps you from relaxing or sleeping in your home. Rather than allow your haven to turn into your worst nightmare, call for pest control in Farmington, AR. Our speedy services guarantee you won't have to spend more time being uncomfortable than necessary. 
Pest Control
The Most Effective Mosquito Control in Farmington
During the summer, we fill bird baths and pools, plant dense shrubbery, and mow the lawn to create the perfect outdoor oasis. Unfortunately, mosquitos like the same things we do, using stagnant water in fountains, watering cans, and nearby lakes as breeding grounds. They also hide in grass clippings, thick vegetation, and other outdoor greenery, making your backyard or garden a major attraction. Rather than succumb to itchy bites and unsightly red splotches, contact Flex Pest Control for spring and summertime relief. 
Our pest control treatments comprise the following:
Uncovering breeding grounds and hiding places that prove problematic

Removing still water and wiping down moist areas that create a mosquito-welcoming environment

Using spray treatments that are deadly to mosquitos but safe for your family and pets 

Coming back monthly, from spring to fall, to monitor the mosquito seasons
Advanced Mosquito Treatments 
Female mosquitos depend on the protein in human blood to produce healthy eggs, while males stick to nectar and plant extracts, making the former the ones we target during treatment. Alongside removing all breeding grounds from your property, we install defense stations that spread a slow-working fungus harmful to their biological makeup as they land on them to breed. We also use advanced spray treatments to create a no-bite zone. 
Pest Control
Efficient Mole Control in Farmington
Moles are one of the few Farmington pests that don't strive to find their way into your home, but that doesn't mean they can't seriously damage your outdoor property. Aside from creating volcano-like mounds in the middle of your flower beds that are aesthetically displeasing and a tripping hazard, they damage root systems with their underground tunnels. Instead of letting them kill everything you've planted or using DIY traps or poison, let Flex Pest Control handle things. 
During pest control in Farmington, AR, we provide the following:
Timely services since our local exterminators are always in the area

A thorough inspection that determines whether moles are the issue

Bait guaranteed to pique the interest of every last mole

Treatments that won't damage your lawn or property 
Love From Our Clients
Read Our Online Reviews