Pest Control in Gentry, AR, Voted Best of Northwest Arkansas
Same-Day Assistance
Pest problems only worsen over time. That's why we provide 24/6, same-day services for immediate relief and peace of mind.
Award-Winning Services
Our advanced techniques earned us the award for Best of Northwest Arkansas in 2020 and 2021. We use bug-deadly products, but our methods are family, pet, and environmentally safe.
Pest Control
When Is Pest Control in Gentry, AR, Necessary?
From roaches and mice scurrying away at the flip of a light switch to arachnophobia and myrmecophobia making you afraid in what should be your haven, common pests prove problematic. They make you and your guests uncomfortable and transmit bacteria and diseases harmful to pets and humans.
Fortunately, Flex Pest Control, with over 950 five-star reviews and top-of-the-line equipment, offers pest control in Gentry, AR, for the following:
Ants

Termites

Spiders

Mosquitos

And more!
Services Within 24 Hours
Bugs, fire ants, and other pests frequently reproduce year-round, some birthing hundreds of eggs at once. Because of this, one mosquito, spider, or roach looking for a dark, safe place to eat, reproduce, and live rapidly gives way to an infestation. Since each day counts, our local team provides services 24 hours a day, each day of the week except Sunday, allowing us to be at your door right when you need us. If you call before noon, we'll arrive by day's end to remedy your infestation issues as soon as possible.
100% Customer Satisfaction Guaranteed
Our team doesn't just comprise a responsive team of professionals with the highest level of training and the proper licenses. We're dedicated to customer satisfaction which helps us get the job done right the first time. Your neighborhood Flex family treats every customer like family and each job like ours only, contributing to almost 1,000 five-star reviews. Our specialists work to fix the issues within one visit and provide lasting relief with top preventative methods before cleanup. If lingering pests remain or you're unsatisfied with the outcome for other reasons, we'll return within 24 hours to make it right.
About Flex Control
Jump To A Service:
ADDRESS
11928 Callis Rd.
Bentonville AR 72712
HOURS
M-S: 24/7
SUN: Closed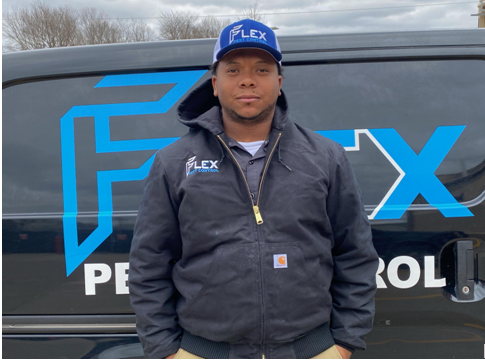 Pest Control
Effective Termite Treatment in Gentry, AR
Termites don't sleep, leaving them more time to build colonies, some record-breaking ones surpassing three million pests. It also leaves them plenty of time to consume wooden structures and other household materials like sheetrock, fabric, and cardboard, each contributing to their cellulose diet. Rather than allow your home to deteriorate, leaving you with an average of $1,800 in repairs, trust our Flex Pest Control experts for a direct pest control plan that starts working as soon as we begin treatment. 
Sentricon® Termite Pest Control Treatments 
Our best form of pest control in Gentry, AR, against termites, includes using Sentricon® System with Always Active™ technology rather than harsh sprays harmful to pet and human health. These systems have proven effective for over 20 years in all structures, from residential and commercial properties to landmarks like the White House and the Capitol Building. This environmental method works when:
We install bait stations around the outer property perimeter.

Termites wander into the bait stations for food that seems more appetizing than structural wood.

The slow-working poison allows the termites to bring the bait to the nest, where it gets to fellow termites, including the queen.

The colony dies out completely, leaving behind no survivors.
Our experts ensure the problem doesn't resurface by maintaining the bait stations once a year. 
Immediate and Long-Lasting Relief from Your Neighbors
Our locally owned and operated team understands the hot and muggy 90-degree Gentry summer days force termites indoors when looking for a cool, damp place. We also know with their mating habits and destructive behavior, one resident's concerns quickly become a neighborhood issue. That's why, as your neighbor, Flex Pest Control uses top treatment and preventative methods for pest control in Gentry, AR, that take effect instantly. We go above and beyond for immediate and long-lasting relief. 
Pest Control
The Best Bed Bug Treatment Options in Gentry
Each female bed bug lays eggs daily, producing up to 500 eggs within its lifetime. Not only does this create an infestation quickly in your home, but since each egg is only one millimeter long, it's difficult for the human eyes to uncover. Worse yet, bed bugs lay these eggs in crevices that (like their adult counterparts) are immune to some pesticides, making them hard to remove. Rather than blindly spray a DIY or store-bought solution, missing hard-to-reach spaces, trust us to rid your living space of bugs and eggs. 
Our Award-Winning Services Labeling Us the Best of Northwest Arkansas in 2020 and 2021
Flex Pest Control values quality communication that starts with us answering your call any time, from Monday to Saturday. Because you speak to an experienced pest management specialist, we promptly send out a bed bug exterminator. Communication, alongside the following, has won us the Best of Northwest Arkansas in 2020 and 2021: 
Same-day services: It's bad enough to think of bed bugs where you rest your head, but they also get into couches, chairs, and other furniture, so we'll come out the same day for an inspection.

Intricate inspections: A professional searches for eggs and living bugs to determine the extent of the infestation and the appropriate course of action.

30-day satisfaction guarantee: If bed bugs are still causing skin irritations and other symptoms after treatment, return with free services complements of our 30-day satisfaction guarantee. 
Pest Control
Unmatched Mosquito Control in Gentry
Mosquitos are the most annoying pest affecting every household annually as the weather warms. They limit outdoor activities, especially if your backyard comprises a lush yard with plenty of hiding spaces, stagnant water for reproduction, and heavy foot traffic. Unfortunately, they become a 24/7 nuisance when they enter your home, so consider our mosquito control services to enjoy your property again. 
Mosquito Relief That Stays With You All Season
After that first mosquito bite, you'll do almost anything to prevent more, from getting out the bug spray and hanging zappers to cutting your grass low and removing stagnant water off your property. However, at best, these methods only protect a small area temporarily, so trust Flex Pest Control for long-term solutions that last all season.
Our QualityPro-Certified Gentry pest control treatments include everything, from misting larvacide and insecticide (whether one time or habitually) to setting up mosquito-specific traps that only infect the nuisance bugs. After conducting the following services, we guarantee you'll notice results for a mosquito-free season:
An elaborate inspection pinpointing all breeding grounds on your property, which includes murky standing water in pools, outdoor pots, barrels, rain gutters, fountains, and bird baths

Neutralize larvae within these breeding grounds and remove water to prevent future infestations 

Return for monthly treatments that keep new infestations at bay 
Whether planning a weekend party or simply wanting to enjoy your backyard sooner, call before noon for same-day mosquito pest control in Gentry, AR.
Pest Control
Rodent Control in Gentry That Keep Scurrying Critters Away
The only thing worse than having rats or mice startle you as they scurry under your refrigerator, couch, or bed is seeing the damage they cause to expensive furniture, important documents, and cherished keepsakes. These pests also nibble through walls, ceilings, and floorboards, causing thousands of dollars in household damages, and that's not even the worst part since they carry numerous diseases that they can transfer to your loved ones and pets, including typhus, Salmonella, and leptospirosis. Rather than share your space, contact Flex Pest Control to eliminate the threat. 
The Only Service You Need for Guaranteed Relief
While sticky or snapping pads may trap some of your nuisances that come out looking for food, most remain behind walls or in crawl spaces, you cannot reach. That means the rodents may reproduce faster than you catch them, keeping the infestation alive. Rather than break out the rat poison that your pets get into or spray toxic chemicals that affect the environment, trust our exterminators with the following: 
Inspect your home from the basement to the attic, leaving no crawl space unchecked for nests and other signs of infestation

Seal nooks and crannies around doors and windows alongside holes in external walls that would otherwise act as entry points

Provide a rodent-free guarantee that promises no more mice in your home, meaning you can call us for further services if you're unhappy with our first

Trap mice instead of spraying for them to create a safe environment with humane efforts 
Start your rodent-free journey the same day you contact us if you call before noon to schedule your service.
Pest Control
Successful Mole Control in Gentry, AR
Moles are small burrowing creatures that, while uninterested in your house, love digging beneath your yard and garden. Although this may seem more harmless than mice and other indoor rodents, these pests create underground tunnels and volcano-like holes on the ground's surface that ruin your picturesque property. As fellow members of this River Valley community, we understand this is unacceptable and provide quality and mole control for these and other types of pests outdoors. 
Our local company understands that with plenty of DIY removal methods available, from eradicating their food source of beetles and worms to using mole traps or poison, it may seem like the most cost-effective solution. However, our team has years of experience relocating moles so you can grow a beautiful yard with healthy plant and tree roots. Trust Flex Pest Control for effective pest control in Gentry, AR, by calling (479) 404-0800 for a free estimate.
Love From Our Clients
Read Our Online Reviews