Gentry Pest Control Starting at Only $45/Month
Same Day Service
We understand convenience is important for you. That is why we offer hassle-free, same day services, saving you time & energy.
Award Winning
Our treatments are targeted at delivering you results while protecting your home & the environment. We only use the most advanced techniques.
Pest Control
Pest Control in Gentry
Roaches scurrying about, ants marching in, wasp nests causing anxiety … sound familiar? If so, we know you never want to have to experience a pest infestation again. Pests can quickly interfere with the comfort and tranquility of your home. Luckily, with Flex Control, you'll get peace of mind and tranquility back! Our highly-trained Exterminators will protect your family from:
Ants
Roaches
Wasps
Spiders
And so much more!
Same-Day Exterminators
No one in their right mind would want a pest infestation to linger for days and days. Pests quickly invade your home, with populations growing rapidly in size. The minute you see any tell-tale signs of a pest infestation, it's time to get our pest control in Gentry services from one of our exterminators!  When you call us before noon, we'll immediately send a highly skilled technician to your home the same day! With reliable, responsive services, you'll receive peace and tranquility as quickly as possible!
Your Satisfaction Guaranteed – Our We'll Retreat!
Once a pest infestation is eradicated, we here at Flex Control, promise pests won't be back to bug you again! We trust in our long-term protection methods and so should you! In fact, we're so confident in our advanced, high-quality Gentry pest treatments that we offer free re-treatments should you notice any signs of pest activity in between services! If you detect persistent pests, we will return within 24 hours and fix the issue until you are 100% satisfied. When you partner with Flex Control for Gentry pest control services, you can trust you're taken care of no matter what. 
About Flex Control
Jump To A Service:
ADDRESS
11928 Callis Rd.
Bentonville AR 72712
HOURS
M-S: 24/7
SUN: Closed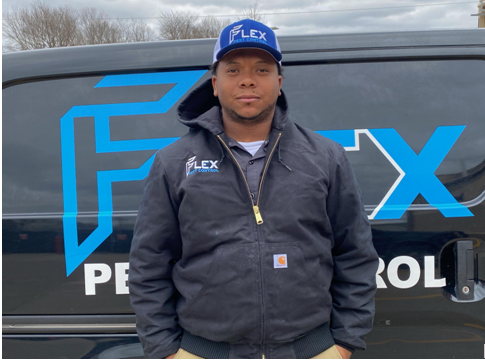 Pest Control
Termite Treatment in Gentry, AR
Your home is your biggest investment and we're here to help protect it! Termites are costly pests that can eat through your home, causing serious structural damage and leaving you with the repair bill. With our Gentry termite treatments, however, you don't have to worry about a thing! Our highly-trained termite exterminators in Gentry will quickly eliminate termites and keep them gone, giving you back the peace of mind you deserve.
Keep Termites Away with Sentricon®
To minimize damage to your home, our termite treatments in Gentry utilize the Sentricon® System with Always Active™ technology, which quickly and safely eliminates termites from your home. This method is minimally invasive and environmentally-friendly, giving you relief without worry. Here's how it works:
Bait stations are installed in the ground around your property.
Termites are drawn to the stations and away from your home.
The bait is brought back to the colony and stops the molting process.
The entire colony is eliminated from the inside, wiping out every termite.
To provide long-term protection, our Gentry termite control experts will continue to regularly monitor the bait stations. With Flex Control, you can rest easy knowing termites are kept far away.
Immediate Relief from Local Exterminators
When you need to get rid of termites, look no further than Flex Control! As a locally owned and operated company, we're more than just exterminators—we're your neighbors, too! You can trust us to always go above and beyond to give you the best termite treatments in Gentry. That includes same-day services, so you don't have to wait to eliminate termites from your home. Just give us a call at (479) 404-0800 before noon and we'll be there in no time!
Pest Control
Bed Bug Treatment in Gentry, AR
Did you know that an individual bed bug can lay 200 to 250 eggs in her lifetime? Eggs are notoriously found in cracks and crevices, where DIY treatments can rarely reach. Have no fear, Flex Control offers bed bug treatment in Gentry that will get rid of all living bed bugs, as well as their eggs. Partner with us and you'll be able to sleep better at night knowing we will eliminate the entire infestation and you won't have to worry about bed bugs returning!
Voted Best Of Northwest Arkansas in 2021
Flex Control was voted best of Northwest Arkansas in 2021 for our pest control services. With our award-winning services, your home will be bedbug-free in no time. When signing up with us for bed bug treatments in Gentry, you can expect:
Thorough bed bug inspections: To create a specific bed bug treatment plan for your needs, our bed bug exterminators will inspect your home for any signs of bed bugs.
Same-day services: Bed bugs invading your home can cause uneasiness. We offer same-day services for your bed bug treatment in Gentry to keep your home safe.
Satisfaction guarantee: We offer a 30-day satisfaction guarantee, so if you find bed bugs in your home, our bed bug exterminators will be back to make things right.
Pest Control
Mosquito Control in Gentry, AR
Mosquitoes can quickly turn an afternoon outside into an itchy, uncomfortable mess, but that shouldn't mean you have to hide inside to avoid being bitten. Don't let mosquitoes ruin your summer fun. Flex Control offers same-day, quality mosquito control services in Gentry, giving you the lasting mosquito control you crave for a sun-filled and mosquito-free summer!
Long-Lasting Mosquito Relief For a Summer of Fun
When the mosquitoes come out, it's only natural to reach for the bug spray and citronella candles, but these DIY mosquito control solutions never really seem to get the job done. If you are ready to stop wasting your time on temporary solutions that only offer partial relief, Flex Control is here to help!
Our award-winning mosquito control services in Gentry are designed to give you long-lasting relief from mosquitoes and the itchy welts they inflict, keeping your yard mosquito-free and ready for fun all summer long! When you partner with us for mosquito control in Gentry, you can expect:
A comprehensive outdoor mosquito inspection to locate breeding sites and determine the extent of your problem 
Standing water removal to eliminate mosquito breeding grounds and prevent new mosquitoes from taking over your yard
Our QualityPro Certified mosquito exterminators provide monthly treatments during peak mosquito season to keep your yard a no-bite zone
If you call us before noon, we can take care of your mosquito control needs that very day!
Pest Control
Rodent Control in Gentry
Rodents are disruptive pests, and it's difficult to feel comfortable in your own home when you're sharing your space with them. Rats and mice contaminate your food, gnaw on your furniture, and pose a health risk to you and your loved ones, making it important to get them out as soon as possible. For reliable rodent control in Gentry, look no further than Flex Control. Our exterminators will completely eliminate your rodent infestation, making it feel like they were never there to begin with.
Guaranteed Relief from Rodents
Rats and mice can hide deep within your home in hard to reach places, making it difficult to eliminate them on your own. Plus, store-bought treatment methods are often messy, dangerous, and ineffective. Rather than attempt to tackle these stubborn pests on your own, trust our professional rodent control in Gentry. We'll do all the hard work to safely and effectively remove every rodent from your home.
Our rodent exterminators in Gentry will:
Inspect your home from top to bottom, searching for the source of the infestation.
Seal off entry points to keep rodents out for good.
Humanely trap the rodents in your home, then carefully remove them.
Give you our rodent-free guarantee—our job isn't done until you're happy with the results!
We also offer same-day rodent control services in Gentry, all you have to do is call us at 479-755-9889 before noon and we'll be there before you know it!
Pest Control
Mole Control in Gentry
Flex is locally owned and operated right here in Arkansas, so you can trust that you're getting the best care from technicians who are a part of the same River Valley community. We don't treat you like just another stop on our route – we believe in treating every customer like family. In fact, we were recently voted by the community as 2017's Best of the Best for pest control services by the NWA Democrat-Gazette!
Since we are a local company, we know and understand the pests that also call Fort Smith their home. Better yet, we know the most effective ways to get rid of them, too! We consider it an honor to serve the members of our Fort Smith community.
Love From Our Clients
Read Our Online Reviews