Get Expert Pest Control Services in Huntsville, Starting at $45/Month
Punctual Service
At Flex Pest Control, we understand that every property owner wants their pest problem to go away immediately. That's why we offer fast, same-day service for effective pest control in Huntsville, AR.
State-of-the-Art Solutions
We want to help you protect what's most valuable to you by using advanced pest control solutions for all types of pests. And you'll see the difference immediately!
Pest Control
Effective Residential and Commercial Pest Control in Huntsville, AR
Flex Pest Control provides environmentally-conscious and effective pest control services to property owners in and around Huntsville, Arkansas. Don't be content with low-quality pest control solutions; turn to the pest control company that cares.
Your Full-Service Extermination Company For a Pest-Free Home in Huntsville
At Flex Pest Control, we offer an extensive range of pest extermination solutions. The list includes different fumigation treatments for existing and future infestations. And we eliminate all common pests, such as:
Ants

Bedbugs

Flies

Cockroaches

Spiders

Earwigs

Rats

Stink bugs and more
What To Expect When You Choose Us for Pest Control in Huntsville, AR
At Flex Pest Control, we understand that pest control needs will vary from property to property. It's why we don't offer a one-size-fits-all solution. So what can you expect when you call us to handle your property's pest problems?
Initial inspection

. We arrive at your Madison County premises and carefully analyze them for breeding grounds, entry points, and pest activity you may have missed.

Custom treatment application

. We'll create a custom treatment solution for the pests we've found and eradicate them safely.

Maintenance visits

. After the initial treatment, we recommend visits every 90 days for maintenance that will prevent re-infestation.
Premium Level Customer Service for All Residents in Huntsville, AR
Choosing Flex Pest Control is handing over your pest problems to a team that offers a top-level customer experience and a fail-safe pest control plan. With our solutions, you'll notice a drop in pest activity from the very first visit, trending downward until you stop seeing the pests completely! Why not contact us today at (479) 404-0800 to book an appointment or request a free estimate online?
About Flex Control
Jump To A Service:
ADDRESS
11928 Callis Rd.
Bentonville AR 72712
HOURS
M-S: 24/7
SUN: Closed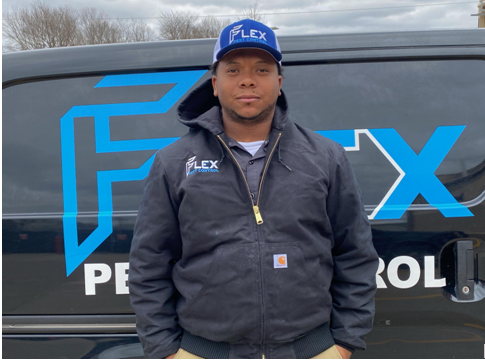 Pest Control
Fail-Safe Termite Treatment in Huntsville, Arkansas
Termites are one of the most destructive pests that property owners will face in Arkansas, taking root extremely quickly to cause severe damage within just a few months. The two most common termites up for pest control in Huntsville, AR, are subterranean and dry wood termites, both of which present a significant threat to homeowners and businesses alike. Flex Pest Control has developed a comprehensive termite treatment for all common types of termites in the state—call us right away if termites have set up nests around your property!
Termite Treatment the Flex Pest Control Way for Your Huntsville Premises
When it comes to termite control, Flex Pest Control's team understands that no two Huntsville properties are the same. Every terrain presents a different challenge, which is why our pest management experts will first inspect your space to determine the extent of termite damage, analyzing the spread and volume of activity as well as physical signs. Next, we'll recommend a custom treatment plan that may include all or some of our termite extermination solutions (the Sentricon® System and Always Active™ solutions eliminate colonies from the inside for ultimate peace of mind).
Get Preventive Termite Protection That Won't Fail in Huntsville, Arkansas
With the rampant termite population in Huntsville, AR, and the surrounding areas, proactivity is prudent if you want to protect your property. Termites can fly 100 meters to start a new colony, which means it only takes one infestation in your neighborhood to put your property at risk. Take advantage of our preventive termite treatments to protect yourself from expensive property repairs with termite-repellent treatment across your landscape and vulnerable parts of your property.
Pest Control
Reduce Your Exposure to Mosquitoes With Our Huntsville Mosquito Control Treatment
Mosquitoes kill more than 700,000 people each year as the world's deadliest animal, according to the U.S. Centers for Disease Control and Prevention. Do you want to focus more on your deck, patio, or fun outdoor experience than swatting away these pesky insects? Turn to Flex Pest Control to eliminate mosquitoes from their known habitats in your yard, including:
Landscape vegetation

Ornamental plants

Eaves and overhangs

Fountains

Birdbaths

Swimming pool areas

And more
Long-Lasting Treatment for Year-Round Comfort in Your Arkansas Location
Our fast, long-lasting mosquito treatments at Flex Pest Control can eliminate adult mosquitoes and stop larvae from developing past their current stage. We offer these treatments during the peak breeding season, with recurring sessions across the year to keep out mosquitos for good.
Pest Control
Wake Up From Your Nightmare With Our Bed Bug Control Treatment in and around Huntsville, AR
Few things are more disconcerting than realizing that you have an ongoing bed bug infestation. It's a nightmare for many homeowners and can spell doom for businesses in the hospitality sector. These parasitic insects spread quickly and are some of the most resilient pests you'll ever encounter in pest control in Huntsville, AR. 
At Flex Pest Control, we have highly effective bed bug treatment designed to break down their resilience. The bed bug control options we'll recommend depend on factors such as:
Infestation location

Infestation size

Type of property
Accurate Bed Bug Treatment Solutions for Arkansas Property Owners
At Flex Pest Control, we eliminate bed bugs and ensure they can't return. We have a high success rate because we don't skimp on the inspection process, taking ample time to examine all areas that have bed bug activity and the adjoining areas yet to show visible signs. Depending on the results of our inspection, we will recommend a specific treatment or combine all the treatment options to target adult bed bugs and their eggs.
Pest Control
Say Goodbye to Unwanted Guests With Our Rodent Control Service in Huntsville, Arkansas
Your mind probably switches to insects when the conversation is about pests, but rodents are every inch as dangerous and destructive, if not more. Not only do these pests carry diseases, but they can also damage property extensively as they chew through the structure with their sharp incisors to reach food sources and build nests. Rodents will also distribute parasites around your property, with their fur and nest debris able to overwhelm your air filtration systems and even cause allergic reactions. 
Rodents also breed incredibly quickly if undisturbed, so when you see the following signs of a rodent infestation around your property, you need to move fast before they cause significant damage to your home:
Crawling or scuttling noises behind your walls or in your ceilings

Bite marks on surfaces and packaged foods

Rodent droppings

Signs of rodent nests
Rodent Treatments That Work for Huntsville Property Owners
At Flex Pest Control, our specialist team excels at working out the perfect rodent treatment for your situation, beginning with a thorough inspection to understand the species before recommending a combination of treatments. Our seal-and-bait approach will block off entry points to keep all rodents outside and trap those that take the bait. Our interior treatment addresses rodent populations that may be living inside your property already, so a combination of both approaches will help thin out the rodent population around your space quickly. 
After the initial treatment, we'll schedule follow-up treatments to keep the pests from returning. Flex Pest Control has solutions for all types of rodent pests that plague homeowners and businesses across Huntsville, AR, and the surrounding areas. Some of these species include the following:
Brown rat

Black rat

Mice

Vole

House mouse

Squirrels

And more
Don't wait for rodents to get comfortable—call Flex Pest Control today at (479) 404-0800 to schedule an appointment for pest control in Huntsville, AR.
Pest Control
Save Your Landscape With Our Mole Control Service in Huntsville, AR, and Surrounds
If you're seeing raised edges of soil pushing up across your Huntsville property's landscape, you likely have a pesky mole problem. These pests have sharp claws that allow them to dig under every type of landscape as they search for food, build nests, and create complicated underground tunnel systems. Moles are also territorial animals, so while you're unlikely to have an infestation on your hands, they can still cause significant damage to landscaping and lawns if allowed to operate unchecked in the yard.
Professional Mole Removal When You Need It in Huntsville, AR
If you've attempted to tackle the signs of mole activity in your yard, you may be surprised to learn that DIY solutions aren't always very effective in exterminating moles. It's easy to suffer injuries in the process of using some of these popular DIY treatments, so professional intervention is much safer and more effective. Flex Pest Control's team can expertly handle the Eastern Mole (Scalopus aquaticus L.), which is the species we see most often here in Huntsville and across Arkansas.
Additionally, we find that traps are not always effective and can be dangerous for other animals, pets, children, and even adults. So, where traps are impractical, our team will turn to a registered chemical treatment to eliminate the moles in their burrows. Our highly experienced professionals understand the habit of these moles from years on the job, which is why we feel so confident to guarantee success with our mole removal process.
Pest Control
Schedule Huntsville's Flex Pest Control Team Today!
If you're a concerned property owner in Arkansas, why not take advantage of our pest control treatments for peace of mind? Call Flex Pest Control at (479) 404-0800 today for top-notch pest control in Huntsville, AR, and the surrounding areas!
Love From Our Clients
Read Our Online Reviews