Customer-Preferred Pest Control in Tontitown, AR at Affordable Rates
Prompt Assistance When You Call
Pest control in Tontitown, AR requires immediate action to protect both the property and the people who inhabit it. Once you call, we take immediate action to implement an effective solution.
Unmatched Service Provision
When you need pest control solutions, you want lasting results that protect your property long-term and prevent the pest from returning. We deliver by implementing industry-leading techniques and effective solutions.
Pest Control
Reputable Pest Control in Tontitown, AR
The Ozarks support an ecosystem filled with diverse animal and plant life. Unfortunately, some of that wildlife tries to share your home with you. These unwelcome pests can wreak havoc on your lawn, building structures, and even your health!
Our team at Flex Pest Control implements effective methods with cutting-edge products to execute reliable pest control in Tontitown, AR. 
Hundreds of five-star reviews from satisfied customers praise our plethora of custom pest control treatments. 

Our methods target myriad common pests from tiny mosquitos to the moles destroying your lawn. 

We value our community and their health and safety.

Our same-day services ensure you get prompt results and peace of mind.
You won't find this level of customer care, service quality, and industry standards upheld anywhere else. Choose Flex Pest Control as your primary pest control service and access affordable rates, friendly technicians, and solutions that work.  
We Treat Both Commercial and Residential Properties
Throughout our pest control services, we focus on making your experience convenient, easy, and speedy. We only employ insured technicians with licenses to back their knowledge and experience. They'll use products that protect you, your family, and your pets, not put them at risk. Our approach makes for a safe, superior experience for owners of both commercial and residential properties.  
About Flex Control
Jump To A Service:
ADDRESS
11928 Callis Rd.
Bentonville AR 72712
HOURS
M-S: 24/7
SUN: Closed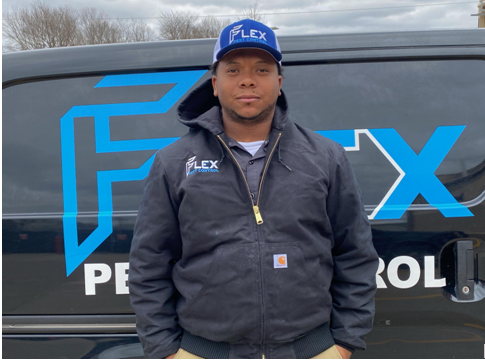 Pest Control
Renowned Rodent Control in Tontitown, AR
Seeing rodents in the wild is often an exciting experience. Nothing beats watching an animal in its natural habitat. Watching how they respond to the environment around them offers a fantastic learning experience for kids and adults alike. But discovering that a rodent has made its home on your property might cause you concern. 
Rodents have a few destructive tendencies like getting into garbage bins, spreading trash around the yard, and even destroying the lawn! Some rodents like: 
can even spread diseases. Although such occurrences are rare, some rodents can even carry the deadly virus rabies which has an almost nonexistent survival rate. We'll identify the rodents causing such a fuss and implement a solution to keep them at bay for good. 
Pest Control
Reliable Termite Control in Tontitown, AR
Termites cause some of the most expensive and destructive pest problems. Colonies that make their homes within buildings rack up over five billion dollars in the United States of America annually. One colony can reproduce quickly and ruin the structure of a building from the inside out. You don't want to be on the receiving end of such extensive damage including:
Buckling wooden structures

Ceilings and floors that look swollen and bloated

Extensive water damage

Unpleasant moldy odors

Damaged furniture and other wooden belongings
We use a multifaceted approach to pest management by installing a series of baits and traps. These components attract and kill colony members, diminishing the colony's numbers and wiping it out. If you suspect termites have invaded your home, don't wait to call us. Our same-day services are essential to protecting your home or business from permanent termite damage.  
Pest Control
Effective Bed Bug Treatment in Tontitown, AR
Bed bugs do more than just bite people in their sleep. They also wage psychological warfare. These bugs are virtually invisible during the day, preferring nighttime to terrorize the people with whom they share a space. Many people awaken with strange sores all over their bodies, unable to locate the source of the strange sores.
Like roaches, these types of pests like to live in structures with tiny, hidden openings such as:
Furniture

Outlets

Appliances

Cracks between the walls and the floor or ceiling

Bed frames

Drawers

Border panels

Behind wall fixtures like artwork, posters, and curtains 
So complete eradication requires a comprehensive pest control plan where the technicians go over the building with a fine-tooth comb. At Flex Pest Control, we're prepared and equipped to handle the task and provide you with much-deserved relief. 
Pest Control
Encompassing Mosquito Control in Tontitown, AR
Everyone in Tontitown, AR is familiar with mosquitos. Your family might enjoy a day outdoors with cookouts and friendly competition through contact sports. Unfortunately, swarms of mosquitoes will disrupt your summer experiences. Their bites can cause swelling and irritation at the bite site. 
But the damage doesn't stop there. Mosquitos can also carry serious diseases, like the West Nile virus and Zika virus. This makes them a top priority when it comes to comprehensive pest control. Fortunately, we have solutions that will make your cookouts and outdoor activities pleasurable again by eliminating the mosquito populations making their homes in places like:
Bird baths

Standing puddles

Irrigated areas

Divots in trees and plants that hold water

Kiddie pools

Buckets and water pans
Mosquito Control Protects Communities
Mosquitos lay innumerable eggs in standing water. Although you can take steps to eliminate standing water around your property, you can't control still water on other people's property. Our approach involves eliminating potential breeding areas and spaces that might attract mosquito activity. We'll also take steps to make your property less attractive to mosquitos in your area. 
Pest Control
Efficient Mole Control in Tontitown, AR
As you step outside for a breath of fresh air and a sip of piping hot coffee, a series of unsightly holes and tunnels greet you. Much to your dismay, you have a mole infestation on your hands. Moles are known for destroying yards due to their tunneling behavior. They live the majority of their lives underground, creating tunnels for travel and eating vegetation and worms.
Unfortunately, the infrastructure created by moles can also cause people to trip and injure themselves. Thus, you need an efficient solution to prevent moles from living on your property rent-free and potentially causing someone to hurt themselves while traversing your lawn. They can destroy other landscape structures like:
Flower beds

Vegetable gardens

Sidewalks

Driveways

Building foundations
Only skilled, well-equipped pest control technicians can successfully remove a mole population and prevent them from returning. 
Protect Your Yard with Mole Control
Moles are difficult adversaries to eliminate from your property. Although you can purchase plenty of products that claim to get rid of moles, you need assistance from professional pest control technicians. We have the products and techniques necessary to fully eliminate them from your property for good! Call us to explore our solutions.
At Flex Pest Control, we take our duties of providing top-notch pest control in Tontitown, AR seriously. Our team only utilizes the latest and most advanced equipment, products, and techniques to protect your home, business, and property. By choosing us, you'll get the peace of mind you deserve. Call 479-404-0800 for a free estimate or same-day service.
Love From Our Clients
Read Our Online Reviews