Get Premier Pest Control Services in Prairie Grove Starting at $45/Month.
Same-Day Service
We offer same-day service. We also get you immediate results for even the toughest pest control emergencies.
Award-Winning
We proudly have the trust and recognition of countless locals keen on working with the best pest control services. Our technicians are unmatched providers of pest control in Prairie Grove, AR.
Pest Control
The Go-To Team for Pest Control in Prairie Grove, AR
Nobody deserves to struggle with pests. These filthy creatures cause serious harm to you and your family, not to mention your home; however, with the right experts by your side, you can eliminate even the toughest pest infestations and restore your quality of life back to where it should be. Flex Pest Control routinely handles many types of pests, including:
Mosquitoes

Spiders

Cockroaches

Ants

Termites

And More!
Commercial Pest Control Services
We want all local businesses to be 100% pest-free because pest management is a critical part of any business strategy. You, your employees, and your customers deserve products and spaces that are entirely safe from pests of all shapes and sizes. We have extensive experience working with business owners from many industries and fields, and we will use our pest control treatments to safeguard your precious business so you can focus more on what really matters: providing your customers with the services and goods and enjoying running your own business.
About Flex Control
Jump To A Service:
ADDRESS
11928 Callis Rd.
Bentonville AR 72712
HOURS
M-S: 24/7
SUN: Closed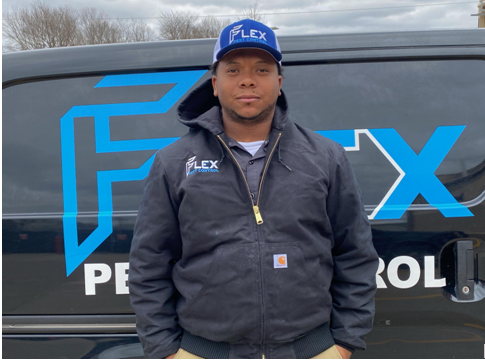 Pest Control
Effective Termite Treatment in Prairie Grove
We hate to see homeowners struggle with termite infestations because these pests act in a swift and devastating manner to damage your home's fences, siding, and structural supports, potentially putting your safety at risk. Why struggle with these loathsome creatures when you can call Flex Pest Control, Prairie Grove's number one choice for dependable termite treatment? We want all local homeowners to enjoy a pest-free life, and that most certainly includes termites.
Common Places Where Termites Live
Flex Pest Control understands that termites can be subtle and sneak into your property, seemingly without a trace. These pests can fly under the radar until it's too late, forcing you to pay thousands of dollars in expensive repairs and clean-up services. We can help you avoid all of that trouble by giving you the power to notice termite infestations before they cause that kind of mess. Here are several places within your home that termites might be infesting:
Attics:

These lofted spaces feature bare wood that termites love to sink their teeth into.

Basements:

Area below ground, especially with exposed structural supports, may attract termites.

Fences:

Outdoor fences made of wood are tantalizing targets for these pesky creatures.

Windows:

Windows attract termites because they often use wood and provide entrance to the rest of your property.
We Catch Termites Before They Cause Damage
Together, we can identify any termite infestations in your Prairie Grove, AR, home before they spread out of control. We provide same-day service, Monday through Saturday, for customers eager to get a grip on their termite issue. We can send a technician to your doorstep that's ready to work with the speed and efficiency that you deserve. If you're suffering from a termite infestation, stop wasting your time with ineffective DIY treatments and trust our professionals at Flex Pest Control. 
Pest Control
Quality Bed Bug Treatment in Prairie Grove
We frequently encounter bed bugs while providing pest control in Prairie Grove, AR. They itch, bite, and damage fabric; few creatures disrupt your sleep habits like bedbugs, but you can get help by working with Flex Pest Control, as we have what it takes to eliminate serious bedbug problems. Whether your bedbugs hide within your bedframe, inside a couch, or even in between little cracks in your wall, we will get the job done: period. 
We Use High-Tech, Safe Treatment Techniques
Some companies use toxic chemicals and over-the-top solutions to kill bed bugs, but these less-than-ideal treatments rarely work and may cause health complications. Flex Pest Control relies on a unique toolkit full of state-of-the-art and safe techniques, and we're more than happy to work our magic wherever you experience bedbug issues in your home. Bed bugs may be stubborn, but they're no match for our highly effective treatments that offer more than just bed bug removal:
Free of odors and stains, perfect for both residential and commercial use

Completely safe for all, including pets and children

Natural and long-lasting without using toxic chemicals

Quick and easy to use
Long-Lasting Results
Flex Pest Control stands by the expert care we provide, as our unique blend of high-tech techniques and professional skills makes us the best choice for bed bug and pest control in Prairie Grove, AR. We guarantee that you won't see those terrible bed bugs or any of their signs after we're through treating your home. We are so confident in this guarantee that we provide a 30-day service guarantee on all of our bed bug removal projects, providing you with the peace of mind and security that you deserve; we won't rest until you're happy with our services.
Pest Control
Dependable Mosquito Control in Prairie Grove
Few seasons bring excitement like summer, as the kids love being out of school, and the adults enjoy the lovely weather: everybody wins! Except there's an unfortunate pest that loves to make this memorable time of year a pain. Mosquitoes thrive in the summer, as well as the late spring and early fall seasons—April through September. We want to avoid these annoying and potentially harmful creatures, and our technicians will gladly make your home mosquito-free, using our dependable equipment and expertise that make us your number one choice for mosquito and pest control in Prairie Grove, AR.
Customer-Focused Solutions That Eliminate Mosquitoes
Flex Pest Control provides the mosquito elimination services you've always wanted. We will leverage every tool that we have in our arsenal to eliminate mosquitoes from your home. We take a different approach to handling mosquitoes, putting you first from start to finish so you feel informed and included in the process, which consists of the following steps:
Consult you about your specific mosquito problem

Perform a rigorous inspection of your property, both indoors and outdoors

Apply state-of-the-art preventative treatments that rid your home of pests without hurting you or your home

Eliminate any sources of standing water, no matter how small

Ask you about consistent service to keep your home free of mosquitoes throughout the summer season
We guarantee that your home will be completely mosquito-free once we've completed our work. Don't believe us? We stand by our 30-day guarantee, and we'll be back at your property, if needed, to take care of any remaining mosquitoes, ensuring your happiness above all else.
Pest Control
Your Top Choice for Rodent Control in Prairie Grove
Rodents can sneak through even the tiniest holes, causing considerable trouble in your Prairie Grove home. These nasty creatures come in many shapes and sizes, yet they all share some features in common, as they carry harmful diseases that will make you and your family sick, and they love to chew on wires, wooden supports, and anything else in between. Flex Pest Control will work for you to identify where these creatures have set up shop in your home, and then we'll use our premium-grade equipment to flush them out; you'll never go back to DIY traps after working with us!
Signs You're Experiencing Rodent Trouble
Rodents, despite their small size, can cause quite a stir in your home. There are tell-tale signs you should watch out for if you suspect that you're experiencing a rodent infestation in your home, and if you notice these signs, you have to call for professional help as quickly as possible.
We offer same-day rodent control services; calling before 12:00 p.m. will ensure that we arrive that very day to get the job done. These are the signs of rodent problems that you must consider:
Filthy, dark-colored droppings throughout your home, but especially in hard-to-reach places

Loud and disruptive scurrying, squeaking, or thumping coming from attics and walls

Nests made of grass, paper, wires, or other material

Bite marks on various items, like wires, structural supports, and attic beams
Pest Control
Effective Mole Control in Prairie Grove
Some pest problems you can't handle with DIY equipment, and mole infestations are not one of these problems. Moles cause terror in your yard, digging up grass, shrubs, and flowers to build ghastly tunnels and hills that ruin your yard. You need the right pest control plan to stop these invaders before they cause even more damage to your Prairie Grove property. Flex Pest Control stands out from the competition because of our unique focus on mole control, providing same-day service that will quickly and effectively stop moles from ruining your life and yard.
How We Handle Mole Infestations
Our company prioritizes your well-being. We want to safeguard your yard while protecting you, your pets, and your children from any potentially harmful chemicals or baits. Our pest control experts take a special approach to mole infestations that combines speed and thoroughness without cutting any corners on safety. 
We take pride in our four-step approach to getting rid of mole infestations. There's nothing else like it, and we've successfully used this process to help countless other homeowners. If you work with us for rodent and pest control in Prairie Grove, AR, we will:
Identify the perfect places to set traps and bait that will rid moles with ease

Prevent further damage to your property

Talk with you about future steps you can take to safeguard your yard

Consult you after the job is done to ensure no further problems
Love From Our Clients
Read Our Online Reviews