Prairie Grove Pest Control For Just $45/Month
Same Day Service
We understand convenience is important for you. That is why we offer hassle-free, same day services, saving you time & energy.
Award Winning
Our treatments are targeted at delivering you results while protecting your home & the environment. We only use the most advanced techniques.
Pest Control
Pest Control in Prairie Grove
Pests can quickly ruin the tranquility of your home, so quick relief from pests is the only solution. Luckily, with our highly-trained Prairie Grove pest exterminators by your side, you'll get a pest-free home as soon as possible! When you partner with Flex Control in Prairie Grove, you'll receive top-notch protection from:
Roaches
Ants
Spiders
Wasps 
And much more! 
Guaranteed Long-Term Protection From Pests
With our advanced treatments, not only can you rest assured knowing that your current pest problem is 100% eradicated, but you can also get peace of mind back knowing that you're receiving long-term protection! We are so confident in our highly-trained Prairie Grove exterminators and our advanced treatment, that we back all of our services with a 100% satisfaction guarantee! If in between treatments you detect pest activity, we'll perform free re-treatments within 24 hours. With us on your side, you can trust that your home will be pest-free for good.
About Flex Control
Jump To A Service:
ADDRESS
11928 Callis Rd.
Bentonville AR 72712
HOURS
M-S: 24/7
SUN: Closed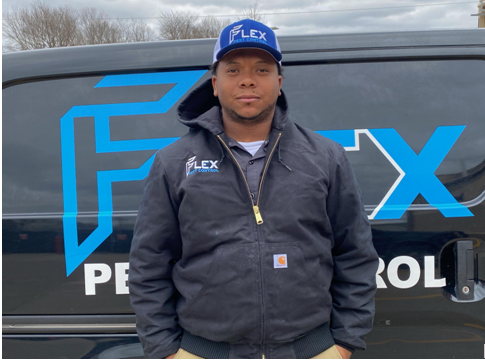 Pest Control
Termite Treatment in Prairie Grove
Termites may be small, but they're also stubborn and extremely destructive. These pests can quickly turn your home into their next meal, causing thousands of dollars of damages. In fact, they cost homeowners across the nation $5 billion every year! Fortunately, our professional termite treatments in Prairie Grove are here to not only rid your home of termites, but also keep them away, giving you one less thing to worry about.
Lasting Protection with Sentricon®
When it comes to termites, we don't mess around. That's why our Prairie Grove termite treatments proudly use the Sentricon® System with Always Active™ technology, the most advanced treatment option on the market. This system relies on bait stations that are strategically placed in the ground around your home. The bait contains an active ingredient that prevents molting, eliminating the entire colony from the inside out, even the queen! In addition to being effective, Sentricon® stations are also:
Low-profile with only a service cover visible.
Minimally invasive to keep your loved ones safe.
Environmentally-friendly.
Regularly monitored, keeping termites at bay for the long haul.
Unbeatable Same-Day Service
Once termites have invaded your home, it's important to act fast. That's why we offer same-day services, so you're never kept waiting while termites are munching away at your home. All you have to do is contact us before noon and one of our highly-trained technicians will come to your home in just a few hours. When you trust Flex Control, you can feel confident you're getting fast, reliable termite treatments in Prairie Grove.
Pest Control
Bed Bug Treatment in Prairie Grove
Are you waking up with itchy bug bites all over you? Do you have bloodstains on your sheets? Have you noticed little black specks on your bed frame? If the answer is yes to any of these questions, you may have a bed bug infestation. Bed bugs can live in more than just beds — they can hide in couches, airplanes, blankets, and many more tiny crevices. Luckily for you, Flex Control offers the best bed bug treatment in Prairie Grove to get rid of ALL bed bugs in one fell swoop.
Bed Bug Heat Treatments That Work Fast
Here at Flex Control, we offer the best bed bug treatment in Prairie Grove that utilizes heat to eliminate bed bug infestations fast and effectively. When you partner with us for your bed bug extermination, you will receive the following:
A thorough bed bug inspection: Before doing anything, our bed bug exterminators in Prairie Grove will inspect your home for bed bugs and identify the severity of the infestation. 
Bed bug heat treatments: After our bed bug inspection, our exterminators will use heat treatments to eliminate all bed bugs and their eggs without damaging your furniture or bedding. Research shows bed bugs cannot survive in high heat!
30-day satisfaction guarantee: If you are not satisfied with your bed bug service or if these pests persist 30 days after we treat your home, let us know and we will come back and retreat for free. That's our guarantee to you!
30-Day Bed Bug Guarantee
Here at Flex Control, we are happy to offer a 30-day satisfaction guarantee when you sign up for our bed bug treatment in Prairie Grove. If your bed bug problem continues, or if you see any bed bug activity within 30 days of your bed bug treatment, we will be back to retreat, at no additional cost to you. You can count on our bed bug exterminators in Prairie Grove to get the job done right, and if we don't, you won't have to suffer the consequences.
Pest Control
Mosquito Control in Prairie Grove
Mosquitoes are well known as annoying summer pests, but they can also put you and your loved ones at risk. In addition to causing red, itchy bites, mosquitoes can also transmit a variety of diseases, including West Nile virus, yellow fever, and malaria. Luckily, Flex Control is here to kick mosquitoes to the curb. Our Prairie Grove mosquito control includes recurring treatments that help protect your family, making your backyard a safe space for everyone to enjoy.
Recurring Treatments for Lasting Relief
Consistent treatment is the key to controlling mosquito populations, as these pests reproduce very quickly and can easily take over your backyard. By treating every 30 days, our expert technicians are able to eliminate adult mosquitoes, as well as target their breeding areas, keeping unwanted mosquitoes out of your yard. 
When you choose our mosquito control in Prairie Grove, we will:
Perform a thorough inspection of your property, searching for mosquito breeding sites.
Create a custom treatment plan based on our findings, giving you the most effective treatment possible.
Remove standing water, which is where the majority of mosquitoes lay their eggs.
Carefully treat areas mosquitoes like to hide, such as shrubs and other vegetation.
Return monthly during peak mosquito season to ensure your yard stays protected.
Pest Control
Rodent Control in Prairie Grove, AR
If you're suffering from a rodent infestation, stop wasting your time with ineffective DIY treatments and trust the professionals here at Flex Control. Our rodent control in Prairie Grove will efficiently remove rats and mice from your home, helping you reclaim your space and restore your peace of mind.
Same-Day Relief from Rodents
Hearing scratching noises, finding gnaw marks, and spotting trails of droppings are telltale signs of a rodent infestation. If you notice any of these in your home, it's important to seek professional rodent control in Prairie Grove to safely eliminate rodents, keeping you and your loved ones safe. If you give us a call before noon, we'll even be there the same day to start helping immediately!
When you trust our rodent exterminators in Prairie Grove, we will:
Search your home for entry points, allowing us to identify the source of the rodent infestation.
Humanely trap rodents then safely remove them from your property.
Perform exclusion repairs to seal your home, preventing future infestations from occurring.
Guarantee your satisfaction—if you aren't totally happy after our service, let us know and we'll make things right!
Pest Control
Mole Control in Prairie Grove
While it's easy to determine if you have moles in your yard, their channels of crisscrossing underground tunnels make it extremely difficult to remove them. That's where we come in! Our mole control in Prairie Grove uses the latest products to eliminate moles and save your landscaping. You work hard to maintain a beautiful home, don't let pesky moles ruin it!
Hassle-Free Mole Control – Same-Day Service
Watching moles ruin your yard is frustrating, which is why we work quickly and effectively to eliminate them. We use the best family-friendly products available and treat your property as if it were our own, so you can feel confident you're in good hands. Our mole exterminators in Prairie Grove will also happily address any questions or concerns you have throughout the process, keeping you informed.
When you choose our mole control in Prairie Grove, you can expect:
Strategically placed bait that's scientifically proven to yield results.
Minimally-invasive techniques that don't damage your home more.
Significantly reduced chances of another mole infestation happening.
Hassle-free service performed by industry experts.
Love From Our Clients
Read Our Online Reviews