Your Choice for Reliable Pest Control in Centerton, AR
Same-Day Appointments
No one should have to wait to resolve their pest problems. At Flex Pest Control, we offer same-day, hassle-free pest control in Centerton, AR, and the surrounding areas.
Award-Winning Services
We target our pest control treatments to provide excellent results without harming our customers' homes or environment. Our award-winning techniques are advanced and effective.
Pest Control
Quality Pest Control in Centerton, AR
When Centerton, AR, residents need safe pest control with fast results, they turn to Flex Pest Control. Our locally owned and operated company takes pride in serving the community by removing unwanted critters from homes and keeping them out. With our time-tested pest control plans, insects, rodents, and arachnids won't stand a chance. 
The South is home to an abundance of wildlife that sometimes venture indoors for shelter, food, and water. Unfortunately, some of these critters are hazardous to people's health and destructive to their homes, but the Flex Pest Control team has the expertise to keep them at bay. As a local company, we have experience handling infestations of common pests like:
Cockroaches

Wasps

Spiders

Termites

Ants

And more
Reliable Pest Management from Trained Professionals
We know how frustrating and frightening it can be to have pests in your home. You can count on our exterminators to provide fast services with quick results. Our knowledgeable and well-trained pest control specialists provide thorough inspections to identify pest and rodent problems before creating an individualized pest control management plan.
When you choose Flex Pest Control, you can expect to receive:
Affordable Services:

 Get outstanding monthly pest control services starting at $45.

Trained Exterminators: 

Our crew consists of well-trained and certified pest control technicians with the skills to identify and eliminate pest infestations.

Fast, Reliable Results:

 With our years of experience, we know how to put a stop to common Arkansas infestations.

Free Estimates:

 We offer free estimates with no hidden fees.

Guaranteed Satisfaction: 

Your satisfaction is our priority, so we'll provide free re-treatments if necessary.
About Flex Control
Jump To A Service:
ADDRESS
11928 Callis Rd.
Bentonville AR 72712
HOURS
M-S: 24/7
SUN: Closed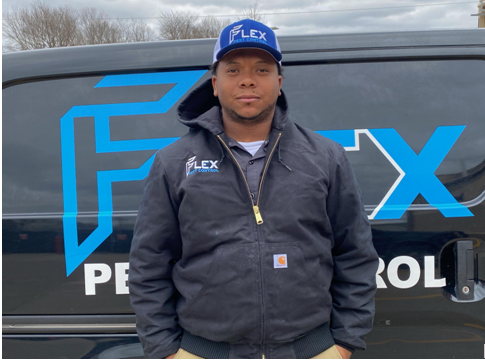 Pest Control
Termite Control in Centerton
Termites are tiny, winged insects that eat cellulose, which is common in wood, insulation, fabric, carpet, cardboard, and plants. Termite colonies infest millions of homes throughout the country each year, leading to billions of dollars in property damage. If you notice evidence of a termite infestation in your home, like pinpoint holes in your drywall, squeaky floorboards, or discarded insect wings on windowsills, contact the Flex Pest Control professionals for a thorough inspection and lasting treatment.
Rid Your Home of Termites with Sentricon® Termite Baiting Control
Save your home from the destructive nature of termites with Sentricon®, one of the best termite control treatments available today. Our exterminators only use the best tools and equipment to complete jobs quickly and efficiently, like the Sentricon® System with Always Active™ technology. The sophisticated system eliminates termites from their source, giving you peace of mind about your pest-free home.
Save on Your Termite Pest Control Plan with Our Special Offers
Unfortunately, termites are a common pest for Centerton, AR, homes, but Flex Pest Control has a way to safeguard your home against costly structural damage. Because we value our customers and always strive to provide affordable services, we're currently offering special discounts and gift cards. Protect your biggest investment without hurting your budget with our outstanding deal!
Pest Control
Rodent Control in Centerton
People in Centerton are sometimes surprised to learn that mice can enter a home through a gap as small as a quarter-inch wide, while rats only need a half-inch to invade a building. Though these small spaces make it easy for rodents to get inside your home, it's difficult finding all of their entry points around your house without rodent removal experience, which leaves your space vulnerable to infestation.
Fortunately, Flex Pest Control's award-winning exterminators have the necessary expertise to remove rodents and keep them out. Because we have years of experience providing quality pest control in Centerton, AR, and neighboring communities, our crew knows how to assess homes for rodent infestations properly. We'll create a custom rodent control management plan to tackle your specific problem.
Get Rid of Rodents Quickly with Our Same-Day Service
Thinking of rats, mice, and other rodents inside your home might feel overwhelming, but you wouldn't have to deal with them long when you call Flex Pest Control. We know that rodents can reproduce quickly and will cause considerable damage to your home by gnawing on walls, papers, and wires, so we offer same-day rodent removal services.
Our exterminators will expertly trap and release rodents away from your house. We provide safe, humane, and effective pest control treatment for these animals. 
We Guarantee Your Satisfaction
Call us anytime you see evidence of a rodent problem in your home, whether it's finding something furry scurrying in a corner or mouse droppings on your floor. We'll thoroughly inspect your home's interior and exterior to find rodent entry points and nests before executing safe and humane pest control treatments to trap and repel them. Still, if the problem continues after our initial treatment, you can be confident our team will return to re-treat your home free of charge.
Pest Control
Mosquito Control in Centerton
A mosquito infestation on your property can prevent you from enjoying your yard once the weather warms. Mosquito bites can lead to scratchy and irritated red bumps on your skin, but the insects can also spread harmful diseases like the Zika virus and West Nile virus. As part of our pest control in Centerton, AR, Flex Pest Control provides superior mosquito control services to protect you and your loved ones from these dangerous and quick-breeding insects. 
Prompt Services to Eliminate Pesky Mosquitos
At-home mosquito treatments are often ineffective against infestations because a single female mosquito can lay up to 300 eggs at once, which can all hatch into larvae in as little as 24 to 48 hours. The insects also love to breed around water sources like bird baths, puddles, and clogged gutters, so it's best to call Flex Pest Control immediately to prevent mosquitos from taking over your yard.
When you contact our team for our premium same-day mosquito control services, we will provide:
An in-depth inspection of your property's exterior to determine the scope of your mosquito infestation and locate its source

Routine monthly treatments during mosquito breeding season to reduce their population around your home

Elimination of mosquito breeding grounds on your property

Additional treatment for adult mosquitos around shrubs and trees
No More Worries About Mosquitos Terrorizing Your Yard!
Mosquitos can be a major problem for Centerton properties, but they're no match for the experienced and knowledgeable crew at Flex Pest Control. Because we take the time to locate mosquito breeding grounds and resting areas around grass and shrubs, we can effectively target mosquito larvae and adults to prevent an out-of-control infestation.
Mosquitos in Arkansas are persistent insects, so we offer monthly treatments as part of our services. Still, you can rely on us to provide free re-treatment if these insects come back to your property. Feel free to take advantage of our 100% satisfaction guarantee if your yard becomes home to another mosquito colony or nest.
Pest Control
Bed Bug Treatment in Centerton
Thanks to bed bugs becoming resistant to many pesticides, these tiny blood-drinking insects can easily hitch a ride into someone's home by latching onto their clothing, shoes, furniture, and other hiding spaces. They also multiply quickly; one female bed bug can lay up to five eggs a day and create a horde of insects that will feed on you, your family, and your pets when you sleep, continuing their breeding cycle in your home. 
Do-it-yourself bed bug treatments are rarely successful, but we offer professional solutions. At Flex Pest Control, we provide effective bed bug treatments that produce long-lasting results to eliminate infestations. Call our exterminators today to receive the following for your bed bug problem:
A detailed home inspection to determine the extent of your bed bug problem

A safe, effective bed bug heat treatment

A 30-day satisfaction guarantee
Never Again Worry About Bed Bugs in Your Home
Instead of letting bed bugs take over your home, turn to Flex Pest Control for optimal relief against these unwanted insects. Our exterminators can rid properties of bed bugs using the latest heat treatment techniques. The treatment exposes the critters to high temperatures that will eradicate them within their favorite hiding spots, like box springs, mattresses, luggage, and folded garments.
You can be confident our skilled exterminators will provide the best options for your bed bug problem. Thanks to our expertise, we're well-versed in the habits, hiding spaces, and lifestyle of bed bugs. That knowledge and experience guide us during our thorough inspections and help us create the best treatment plan to provide long-term relief from bed bugs. 
Pest Control
Mole Control in Centerton
Many Centerton locals don't consider how some wildlife can affect their properties. For instance, moles are small subterranean mammals that dig in the dirt, making a series of interconnected underground tunnels that can damage a lawn or garden's health by disturbing its plant roots. With the help of Flex Pest Control's mole experts, we can create a safe and effective treatment plan to remove moles from your yard while preserving the lawn's health and visual appeal.
Targeted Services for Fast Mole Removal
The best way to handle a mole infestation is to contact a professional pest control company in Centerton when you notice a problem in your yard. At Flex Pest Control, our crew uses special bait systems to trap and remove these critters within their tunnels. You can rest assured our time-tested methods will remove moles from your property and prevent them from returning. 
Hassle-Free Mole Removal from Friendly Technicians
At Flex Pest Control, our professionals understand that you likely won't want to wait long for a reliable pest control management plan to address your yard's mole problem. That's why our locally owned company offers same-day services to provide fast relief.
As always, we'll go above and beyond to ensure we handle your pest problem immediately. Our team is always available to return to your property for re-treatment at no cost to you if the problem continues.
Pest Control
Ultimate Pest Protection for Your Home
At Flex Pest Control, we have years of experience using the latest tools, equipment, and techniques to remove or eliminate all types of pests from Centerton residences. From cockroaches to rodents, our skilled and friendly exterminators can handle them all with our effective recurring treatments. If your home develops another issue after our treatments, we'll gladly return for free to ensure those pests never invade your home again.
Local Services from Qualified Experts
The Flex Pest Control crew prides itself on providing the best treatments against common pests in Centerton while giving our customers in the community the utmost respect and courtesy. That's why our highly-trained exterminators offer a 100% satisfaction guarantee for all services. Call Flex Pest Control at (479) 404-0800 today for pest control in Centerton, AR, and experience our skills and friendliness firsthand.
Love From Our Clients
Read Our Online Reviews