Award-Winning Pest Control Services in Bentonville, Starting at $45 a Month
Same-Day Appointments
Enjoy almost immediate action on the same day you call with our convenient appointment options. Take care of your pest troubles today!
Award-Winning Solutions
Our pest management techniques are safe for the environment and your home. However, they do prevent pests from coming back onto your property.
Pest Control
Highly-Effective Pest Control in Bentonville, AR
Numerous pests can cause problems for your home or business, whether it's structural damage, spreading disease, or becoming a bother. Our trusted business has years of experience and training to take care of pests of any size and type. Some common pests we eliminate in Bentonville, AR, and the neighboring areas with our proven solutions include:
Spiders

Wasps

Ants

Flies

And many others!
Residential Pest Control Services for Bentonville Homeowners
It can feel frustrating waiting several days or weeks for pest control treatments in and around Bentonville. However, we offer same-day services when you contact our business before noon, so you can take care of harmful pests by the end of the day. We'll thoroughly inspect your home and the obvious affected areas, apply our treatment methods, and verify that pests are on their way out after utilizing our proven removal techniques.
The Flex Pest Control Difference
Our local business is not only experienced in the Bentonville area, but we also know what types of pests pop up the most, such as ants, wasps, flies, and more. We can develop a personalized pest control plan to safely and effectively tackle any nuisance on your property. At Flex Pest Control, our exterminators assess the situation and use our supply of treatments and techniques to ensure these invaders stay out of your space.
About Flex Control
Jump To A Service:
ADDRESS
11928 Callis Rd.
Bentonville AR 72712
HOURS
M-S: 24/7
SUN: Closed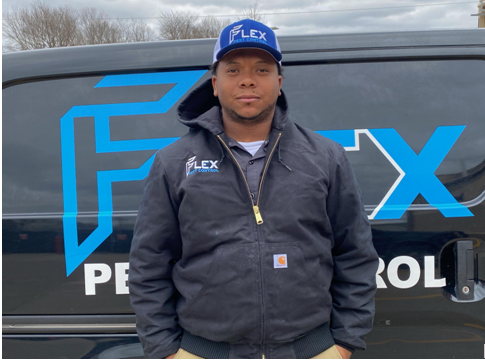 Pest Control
Top-Notch Bed Bug Treatment Around Bentonville, AR
You deserve to sleep in a clean, bug-free bed and wake up feeling rested. It's difficult to relax when tiny critters are lurking below the sheets and in the mattress, but Flex Pest Control offers the solutions you need. Our services include the following techniques:
Thorough bed bug elimination treatments

Precise identification of affected areas

30-day satisfaction guarantee

And so much more!
Send Bed Bugs Packing for Good
Bed bugs are one of the most difficult pests for homeowners to try to eliminate because they are ridiculously small and hard to catch. You may not see them in your home, but you might experience itching and irritation while you sleep. Our heat-based treatment won't leave a single bed bug behind and keep them out of your area of relaxation, so you can count on us when bed bugs come knocking or if you have eggs, larvae, or any other form. We don't consider the job complete until you feel completely safe and comfortable and your bed bugs are truly gone for good!
Pest Control
Dependable Termite Treatment in Bentonville, AR
The amount of damage termites can cause in Bentonville is truly astonishing, as they can turn a home into an unsafe nightmare. Chewing through the structural support systems of your property leads to expensive damage and unsafe living conditions. Stopping termite issues at the source is vital for keeping money in your wallet and ensuring you don't have to worry about staying in an unsafe living environment for long.
Termites may look similar to ants, but the aftermath of their presence is far more damaging and exhausting to resolve. Waiting to deal with this problem isn't always feasible, especially if you have large, hidden termite colonies and nests wreaking havoc inside your Bentonville house.
Our Technicians Tackle Termite Trouble
When it comes to getting rid of termites, you need the best in the business to get rid of these cellulose-consuming creatures. If you hire just anyone to remove them, you have no guarantee that the problem will lessen and that your property is safe to stay at. However, Flex Pest Control offers long-term solutions to banish termites from new and old construction, creating personalized plans for the most efficient removal.
Booking an inspection lets you know for sure whether you have termites infesting your home or if you're safe from pest problems. It's better to get answers than to discover you have to pay for property repairs because termites ate several 2×4 beams, so contact us today for an inspection!
See Why Flex Pest Control Is Different
Our pest technicians never treat our clients like another number or face. As a customer, your satisfaction and safety are of utmost importance to our entire team, and we go beyond the care of other pest control businesses. We make you feel important because, to our company, you truly are!
We are fellow members of your community and have gotten to know all of the areas we serve. Over the years, we've formed long-term, meaningful relationships with our clients that make a difference. Give us a call to experience the Flex Pest Control difference, and see why our business continues to remain the top choice for pest control in the Bentonville area. 
Pest Control
Magnificent Mosquito Control Near Bentonville, AR
At Flex Pest Control, we recognize the importance of getting rid of mosquitoes the right way. Protecting the safety and health of you and your loved ones matters to us, so we've crafted high-quality treatments (same-day or long-term) to make summers enjoyable again. You shouldn't have to worry about how many mosquito bites you'll get from spending time outside and instead enjoy making memories with the ones you care about. Disease-carrying mosquitoes are no joke and dangerous when no one stops them from spreading, but our team is the perfect group for pest control in Bentonville, AR.
Same-Day Services for Immediate Results
You can't always wait several days or even a week for a pest control team to come and clear out mosquitos. We'll make your mosquito woes a thing of the past with our same-day flexibility, allowing your family to enjoy more time outdoors and less time stressing about bug bites. Our crew tackles mosquito breeding areas and rest stops to prevent the rapid growth of mosquito clans, as these creatures can multiply hundreds at a time. Working with our business means shorter wait times, fewer headaches, and more time enjoying mother nature, providing you with peace of mind today!
Routine Treatments for Maximum Effectiveness
One of the worst characteristics of mosquitoes is they always seem to return for more. While this may spell trouble for the average property owner, our team comes prepared for any situation and has experience dealing with these unwanted recurring guests. Our staff will routinely return to your home each month during the height of mosquito season to apply effective treatments, keeping the problem at bay and mosquitoes out.
Pest Control
Trusted Rodent Control in Bentonville, AR
Do you hear squealing, squeaking, chattering, or small scurrying footsteps above your head or in your walls? You're potentially experiencing a rodent infestation, a situation that often frightens and disgusts Bentonville homeowners. Before going out to purchase fancy traps and harsh chemicals, get in touch with Bentonville's best team, as rodents are one of the most common types of pests we remove from homes and businesses. Let us remove these disease-carrying critters with long-term treatment options, no matter if you have gerbils, mice, chipmunks, or squirrels.
Fast and Easy Rodent Removal Solutions
Our technicians specialize in removing rats and other popular rodents from Bentonville buildings, with more effectiveness than the typical DIY solutions and home remedies. From blocking off entry points to trapping and removing all rodents inside your property, our team does the best job of identifying infested areas and making them critter-free. We help homeowners achieve a rodent-free home and never leave any messes behind! If rodents are getting into your trash and supplies or making you uncomfortable at home, don't hesitate to connect with our business.
Long-Term Rodent Elimination for Your Home
A happy home is one without rats and mice taking up residence, and at Flex Pest Control, we stop at nothing to achieve that for you. Our rodent extermination team quickly gets to work as soon as you connect with us about your concerns. We never leave any stones unturned and work hard to prevent rodents from coming back into your home for food and shelter, removing access to all entryways and exits and sealing the perimeter. Keep your property's occupants safe with the help of our trained and determined professionals that make it impossible for rodents to return!
Pest Control
Unbeatable Mole Control in Bentonville, AR
Moles can take a gorgeous, flower-filled, and well-maintained yard and turn it into a chaotic disaster. If their food sources of grubs, worms, and other tiny insects have high populations in your yard, moles are more likely to appear and cause trouble. Although moles are small, they rely on their strong sense of smell to seek out their next meal.
While many property owners underestimate the damage moles cause and the significance of an infestation, it's vital to reconsider that notion as a situation can quickly go awry when moles are involved. Our team wastes no time carefully exterminating all moles on your property, helping you and your loved ones stay safe and experience relief that these stubborn critters are truly gone for good. 
Some common signs that suggest moles are present on your property include the following:
You'll have more small hills through your front and backyards, indicating the exits of mole travel routes.

Plant life can experience damage and torn-up routes from moles getting around through your yard.

Raised, dead, or discolored areas of grass are popular aftermaths of mole travel.

You notice squishy and soft patches of soil, hinting at recent movement and activity.

More insects and bugs are present, attracting moles in the area to enjoy the meal.
Send Moles Away Today!
Why delay in getting mole control services when you can address the problem in just a few hours? Flex Pest Control knows exactly how to outsmart pesky and sneaky moles, and you can quickly get an appointment with us in or around Bentonville, Arkansas. Although moles burrow through the ground for their food source, you don't need them to use your home to do so. Call our team for same-day assistance and quality solutions!
Pest Control
Contact the Best Business for Pest Control in Bentonville, AR, Today
Flex Pest Control proudly produces numerous pest control services for countless Northwestern Arkansas clients in multiple towns and cities. We make it our mission to deliver the solutions our customers need for fair prices and to achieve effective results. Feel safe and comfortable in your home again by contacting our award-winning, experienced business for a service appointment. Call (479) 404-0800 for unmatched expert pest control in Bentonville, AR, and the surrounding areas!
Love From Our Clients
Read Our Online Reviews